Travel To Montenegro
This post may contain affiliate links which means that if you purchase through my link I may earn a small commission which helps to keep this site going. Thank you. You can find more info in my disclaimer.
Travel to Montenegro is easy, no matter where you're coming from. You can arrive by:
Plane into one of three international airports
Train to Bar
Car from just about anywhere
Bus  
Boat into one of the ports along the coast
Keep reading to find out about travel to Montenegro.
discover kotor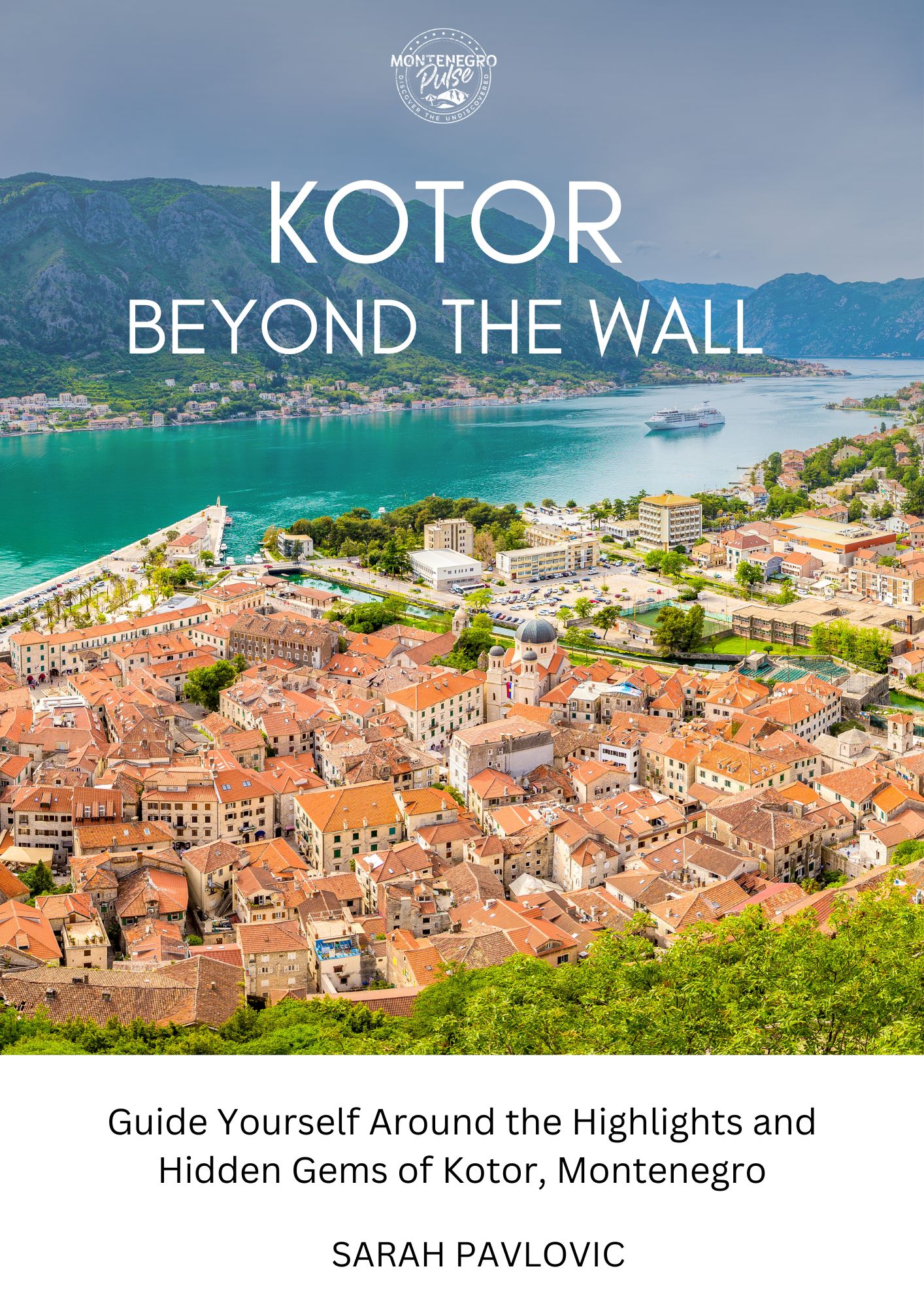 Guide yourself with the
"World's Best Guide to Kotor"
Top attractions
Hidden gems
Bonus walking tour
What to eat
Exclusive experiences
Essential visitor tips
---
Travel to Montenegro By Plane
Being such a small country, Montenegro is lucky to have access to three international airports – Tivat, Podgorica and Dubrovnik, across the border in Croatia. So flying to Montenegro is really easy.
Airport Transfers
If you're not hiring a car on arrival, you'll need to book a transfer to your next stop. There are private taxis at the airports, but these can be severely overpriced (especially in Tivat) and finding and haggling with a driver is stressful when you've just got off a plane. 
Booking a transfer in advance means that you can just get off the plane and meet the driver waiting for you. You can find transfer options and pricing.
---
Travel to Montenegro By Train
Coming by train is another easy and very interesting way to travel to Montenegro. The only inbound route is from Serbia and, although the trains are very much no frills, the scenery is impressive. 
Scheduled Passenger Trains
There are trains running twice daily from Belgrade which stop at Bijelo Polje, Mojkovac, Kolasin, Podgorica (the capital city), Sutomore and finally Bar on the coast.
There's a morning train which departs at 9am and an evening train which departs at 9pm. The journey takes about 11 hours and you can get sleeper cabins for the overnight journey. This train actually starts in Subotica and stops in Novi Sad (both in Serbia) also before it gets to Belgrade.
The service is no frills on the standard Serbian Railways train and I've heard complaints about the cleanliness of the trains, but you'll be treated to some stunning scenery as you pass monasteries and go through mountain passes.
There are many highlights and if you take this trip you'll be glued to your window for most of it. It's considered one of the top 10 rail journeys in Europe. 
Of special note is the bridge at Mala Rijeka viaduct. You'll want to be ready to lean out the window with your camera as the train rounds the bend and gives you a view of the bridge over the canyon. You'll also be travelling along the Tara Canyon and Skadar Lake and the route gives you stunning views of each - just bear in mind that depending on the time of year, it might be dark when you come to Skadar Lake towards the end of the journey. In summer the days are longer so you'll have more daylight - the longest day is at the end of June.
There's also one point where you'll descend down one of the steepest rail inclines in the world! – descending 1,000m over 70km to be exact.

Buying Train Tickets
You can check an up to date time table on the Serbian Railways website here. You can also buy tickets online through their website. The tickets cost around €32 one way.
Rail Europe Passes
Rail Europe has multi-passes that are great if you're planning on travelling around Europe by train.
Rail Europe has a Balkan Flexipass which allows you to travel through Bosnia and Hercegovina, Bulgaria, Greece, Macedonia, Montenegro, Serbia, Romania and Turkey. A great option if you're doing an Eastern European tour. Find out more about the flexipass here. 
Rail Europe also has a Global Pass which includes unlimited travel in 28 countries in Europe. This one's for you if you're doing a true European tour!

---
Travel To Montenegro By Car
Travel to Montenegro by car is also dead easy. If you want to combine your trip to Montenegro with a visit to any of the surrounding countries, you'll find it a breeze to find a convenient border no matter which direction you're coming from. 
montenegro Border Crossings 
Serbia: Rance, Cemerno, Dobrakovo, Kula, Drazenovac, Vuce.
Albania: Bozaj, Sukobin, Grncar.
Bosnia and Hercegovina: Sitnica, Ilino Brdo, Vracenovici, Krstac, Nudo, Scepan Polje, Metaljka, Sula.
Croatia: Debeli Brijeg, Kobila
Requirements
The only requirements for driving your car or a rental car are the car's paperwork (registration etc) and border insurance for Montenegro.
If you're renting a car, the rental company should be able to provide you with this. You can also buy the border insurance at the border crossing. Find out about car hire in Montenegro here.
---
Travel To Montenegro By Bus
You can find bus links to Montenegro from all neighbouring countries. The best resource to use to check the timetable and options is Balkan Viator and BusTicket4.me. All you have to do here is search your departure and arrival locations and they'll give you the timetable. You can also buy tickets on BusTicket4.me.
If a bus route shows up on Balkan Viator but not on BusTicket4.me, I recommend checking with the departure bus station. We've found that the timetables can be fine for July and August, but incorrect for other months. Because BusTicket4.me sells tickets, their timetables are always correct.

You can also find information about arrivals and departures from Podgorica bus station here.
Two of the largest bus transport companies are Blue Line and Autoboka Transport. Blue Line has links to Subotica and Novi Sad in Serbia and also Dubrovnik in Croatia. Autoboka Transport has links to Serbia, Croatia and Macedonia.
---
Travel To Montenegro By Boat
Ferries

If you are keen to travel to Montenegro by boat, Montenegro Lines runs a ferry service from Ancona and Bari in Italy to Bar. This trip takes 8 hours and you can find the schedule and pricing on their website here.
Cruises
There are lots of cruises available which stop in Kotor. Celebrity Cruises, MSC, Costa, Holland America and Thomson all have options that include Kotor.

Arrival into the Bay of Kotor by ship is spectacular and the balconies of the ships are always lined with passengers taking in the dramatic views.

Search for a cruise to Montenegro here.

The ships themselves are no less impressive and you'll see them coming and going early morning and late evening from April to November.

If you're lucky enough to be at the narrowest part of the bay (either in Kamenari or Lepetane) when one passes, you'll get to see how huge these ships are up close.
Private Vessel
So you see that travel to Montenegro couldn't be easier, however you want to arrive. Now you just have to choose one and you'll be well on your way to enjoying an unforgettable holiday in the Pearl of Mediterranean.
---
Travel to Montenegro
help the stray animals of Montenegro
Book your accommodation anywhere in the world through any of the search boxes on our site and we'll make a donation towards sterilising stray animals in Montenegro. 
It costs you nothing, and you get the biggest selection and lowest prices guaranteed. It's a win-win!