Montenegro Pulse contains affiliate links and is a member of the Amazon Services LLC Associates Program. If you make a purchase using one of these links, I may receive compensation at no extra cost to you. See my disclaimer for more information.

Herceg Novi: Best Things to Do in Herceg Novi, Montenegro (2023)
Herceg Novi, also known as the 'Town of 100,001 Steps', is a hidden gem where you can wander the old town's alleyways, mingle with the locals in the farmers market and soak up the sun on the best beaches in the Bay of Kotor.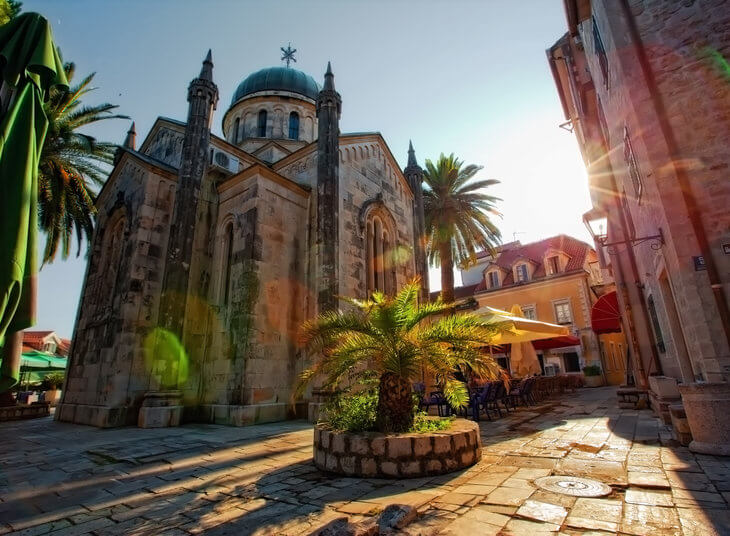 Bellavista Square
Image: Deposit photos
Herceg Novi was once the darling holiday spot of Yugoslavia. Fully 30% of the holiday-makers in Montenegro came to Herceg Novi. They'd come from all over Europe to soak in the sun and cover themselves with the healing mud in Igalo.
These days, the town is often bypassed for more glamorous Montenegrin holiday spots, but for those intrepid adventurers looking to avoid the most popular holiday destinations, Herceg Novi proves to be just what they're looking for. 
Located at the entrance to the Bay of Kotor, Herceg Novi is a relaxed place for a holiday in Montenegro. You can shuttle yourself between the beach and hotel room, take boat tours and spend the balmy evenings strolling the seaside, licking gelato cones. 
It's the quintessential European summer holiday.
Herceg Novi is blessed with beaches, a quaint old town and it's an easy day trip from here to Dubrovnik in Croatia. 
So if you'd like to escape the crowds and chill out in the 'Town of 100,001 Steps', follow me!
Things To See and Do
Herceg Novi Old Town
Herceg Novi's old town is a must-see if you're staying in or visiting the town. It's very much the beating heart of the town and locals come here every day to have coffee (a very important ritual in every Montengrin's day), do their shopping and take care of business.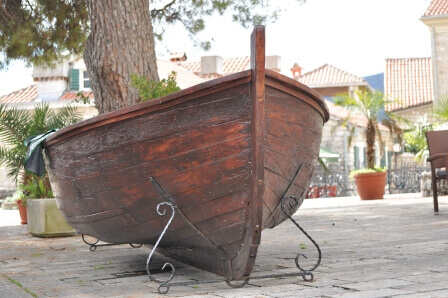 The old town lies just above the town's marina. And this reminds me that Herceg Novi has another nickname – the City of Stairs. To reach the old town from the seaside, you'll need to go up one of the many sets of stairs leading to town.  

---
The Clock Tower
In the old town you can't miss the clock tower, built by the Ottoman Turks in 1667.  Taking the staircase underneath the tower will bring you to Belavista Square. 
On your way up, keep an eye open for a hole in the wall bookshop. This tiny cove is a rare treasure trove where you can pick up English versions of books written by well-known Yugoslav writers like Ivo Andric's The Bridge Over the Drina and Momo Kapor's Guide to the Serbian Mentality. This one was never translated into Serbian, which is understandable when you read it. It's pretty accurate though... just saying!
There's another interesting book shop just before the clock tower, in the main square, called Salt Bookstore. You'll also find interesting English-language books here like The Austro-Hungarian Fortresses of Montenegro: A Hiker's Guide.
---
Belavista Square
This quaint little square is home to Archangel Michael's Church, which you can view, and of course numerous cafés where you can refresh, relax and take in the ambience.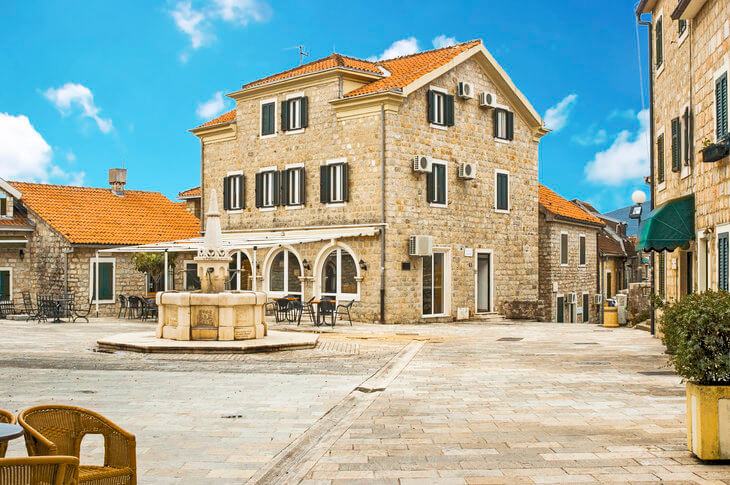 Belavista Square
Image: Deposit photos
---
Kanli Kula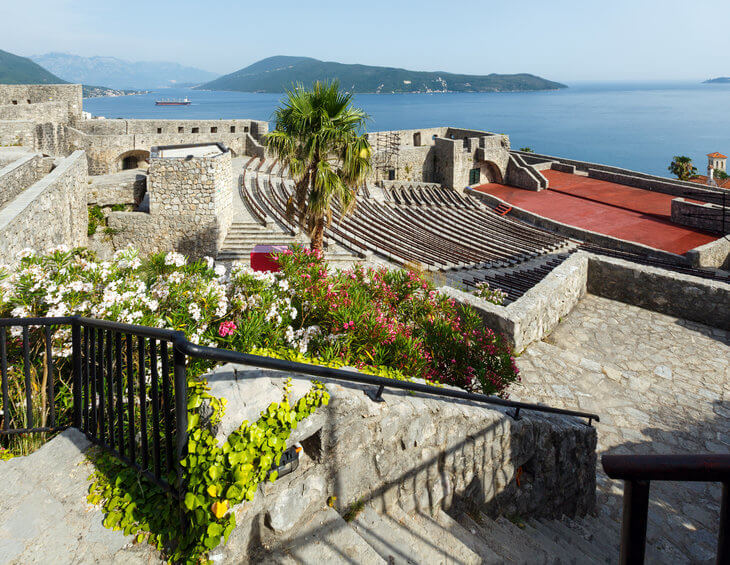 Kanli Kula
Image: Deposit photos
From Bella Vista you can take another flight of stairs up to Kanli Kula.  The name means 'Bloody Tower' and it was built by the ruling Ottoman Turks in the 16th century.
It's been damaged and repaired several times by the ruling Ottoman Turks and Venetians and today it's a great spot to get panoramic views of the whole of the Herceg Novi coastline. 
In July Kanli Kula is the location of Suncane Skale, a music festival. It's also used for concerts and outdoor film screenings throughout the year.
Unfortunately, like many Montenegrin attractions, there are no informational signs about Kanli Kula onsite, nor do you get any information brochures with your entrance fee.
Entrance: €1 per person
---
Forte Mare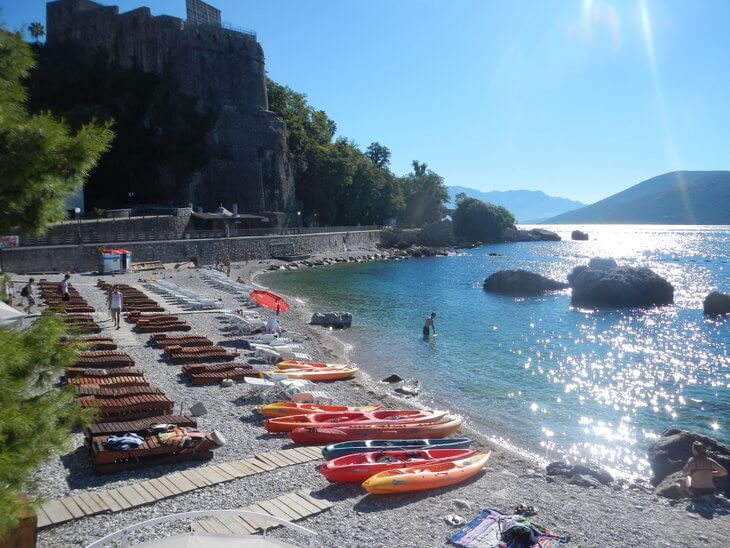 The town beach and Forte Mare in the background
From the town beach, you can't miss Forte Mare fortress. To get there, you can take a staircase from the lower one way road or cross the small bridge from the old town. 
Forte Mare dates back to the founding of Herceg Novi in the 14th century when it was founded by King Tvrtko of Hercegnovina. It used to be part of a larger citadel, but a large portion of it fell into the sea during an earthquake in 1979 and it's still there. You can see it when you walk along the promenade.
Like Kanli Kula, you'll get fabulous views of the coastline and that's the main attraction.
Entrance: €1 per person

---
The Pjaca
Just off the main square, you'll find the 'pjaca' (pronounced piazza in the Italian way), which is the farmer's market. 
This is the best place to stock up on fresh produce. You'll find local fruit and vegetables, flowers, proscuitto, homemade cheeses and olive oil. 
You'll be buying your food from the person who grew or made it - quite often a 'baba' (grandmother) who comes to town every day to sell her produce. But be aware that not all produce here will be 'domaci' (domestic), look for the 'domaci' sign and stick to seasonal, local produce. 
I recommend: figs in summer, olives, honey, olive oil in recycled bottles, rounds of cheese, lettuces, tomatoes, cucumbers, dirty potatoes, eggs, spring onions and capsicums.
Opening hours: Every day except Sunday 8am - 2pm.
---
While you're here take a walk through the town's alleys. You'll often walk past the music school to hear strains of flute playing or past the monastery and the bells will be chiming.
Aside from that, parts of it are just so picturesque, you'll want to photograph everything.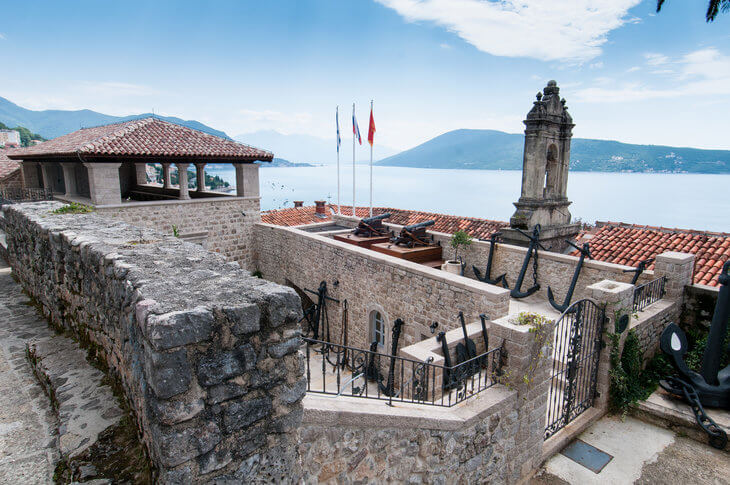 Take the path next to Belavista down towards the sea to find the music school and this lovely spot
Image: Deposit photos
---
Do Like A Montenegrin - Get Coffee
When you've finished exploring and have stocked up on some fresh produce, you'll probably be ready for a coffee, lunch or ice cream.
Here are the most popular places to get coffee:
Gradska Kafana: enjoy the view of the marina from the shaded terrace in the old town.
Porto Fino: in Belavista Square
Blue Fin: a lovely, shaded terrace overlooking the marina and swimming pool on the waterfront. 
Peter's Pie and Coffee: an unassuming coffee shop that has lots of vegetarian and healthy options on the promenade towards Igalo.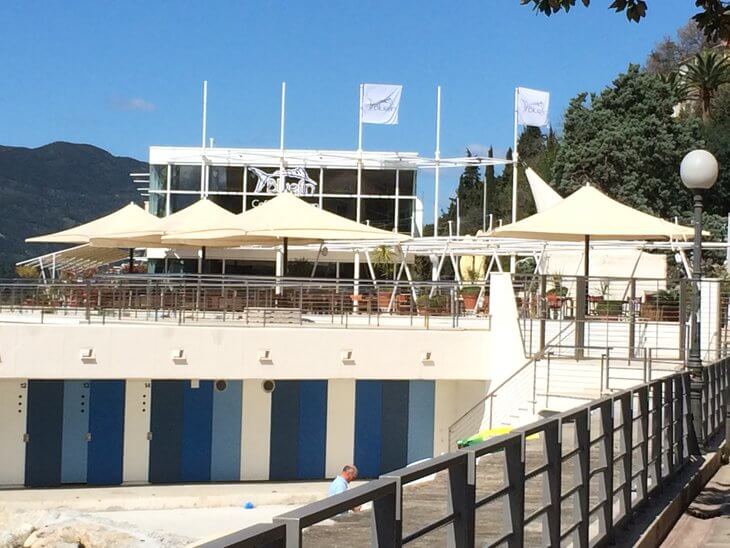 The Blue Fin overlooking the pool and marina
---
Setaliste Pet Danica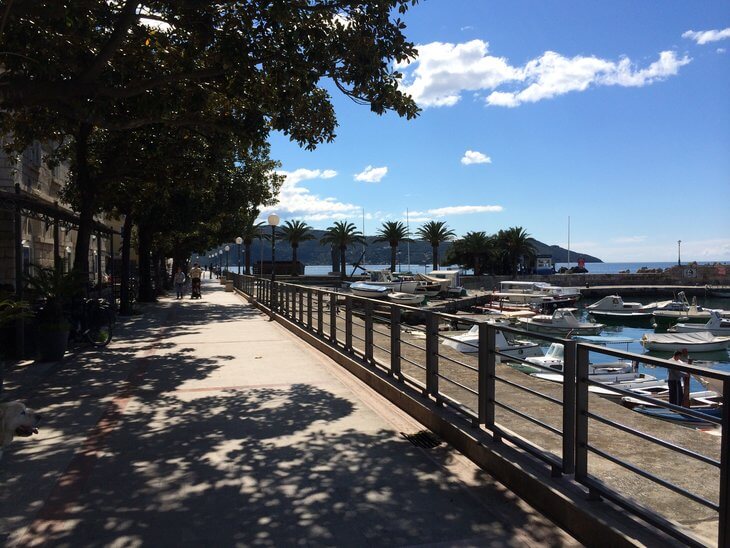 The Promenade by the town marina has great restaurants, bars and you can jump a boat tour from here
One of Herceg Novi's main features is the 7km promenade that stretches along the coast from Igalo at end of town to Meljine at the other - Setaliste Pet Danica. This stretch is filled with restaurants, beaches, shops and rental accommodation.
Local's Tip: We don't recommend staying in the beachfront apartments along the promenade unless you're a really heavy sleeper. This area is generally full of people all day and all night and in Igalo, the music from the clubs and outdoor bars will be thumping until at least 1am. The exception to this would be at the Savina end of the promenade (Hotel Perla is a good option here) because there aren't any bars and it's much quieter.
Although quite busy during the day, the promenade really comes alive at night. People start to come out from about 8pm onwards to walk the promenade. You can get ice cream or dinner at one of the many restaurants and all the shops down here are open until at least 10pm. In Igalo there are several bars and clubs like La Bamba and Casa for the younger set. 
---
Beaches
There are so many beaches here to choose from, all offer loungers and sun umbrellas and in Igalo there are several with play equipment. The best thing about Herceg Novi's beaches is that the water is some of the clearest in the bay, perfect for a day of swimming and snorkelling.
Best Herceg novi Beaches
Savina: two small beaches next to Hotel Perla. Small pebbles that's good for kids.
Baby Beach: just north of the marina, this beach is fine sand and pebble.
Igalo: The sand and shallow water of Igalo at the far north end by Tito's Villa is a favourite with locals and Serbian tourists. The sandy bottom and abundance of crabs, fish and shellfish make this a kids' favourite.
City Beach: Next to the marina in the centre of town, you'll find a pebble beach with kayak rentals and loungers.
Igalo Centre: In the centre of Igalo, by Nautilus restaurant, you'll find a large, sandy beach with loungers and a lagoon.
---
Kayaking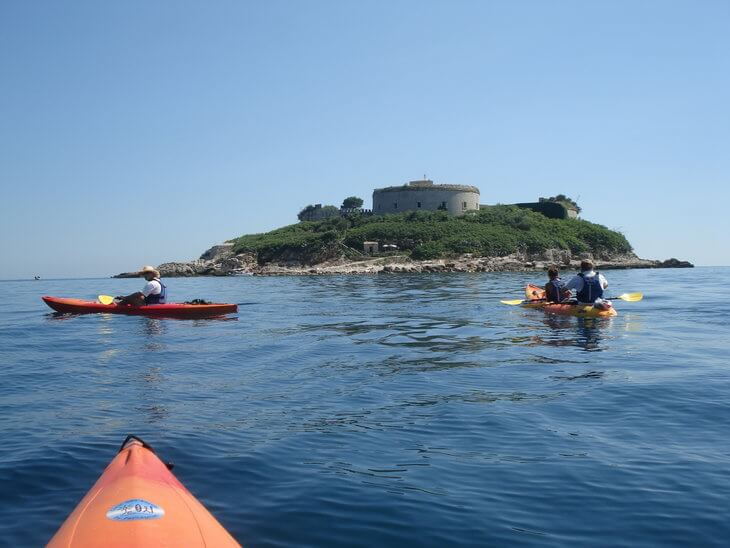 Herceg Novi is great place to go kayaking. You can head across the bay to the village of Rose, visit Mamula island or go to Dobrec beach on Lustica Peninsula.
You can book a guided tour or hire kayaks and head out on your own.
Read More: Kayaking in Montenegro
---
Herceg Novi Museum
As you walk along the one-way road from the old town towards Igalo, you'll come to a narrow street and sign for the 'musee' - the town museum.
This 18th century building was bequeathed to Herceg Novi with the stipulation that it become a museum by local resident Mirko Komnenovic (1870 - 1941). The stately building and gardens house archaeological, historical, ethnological and religious collections.
Of course there are plenty showing Herceg Novi's proud sea-faring past and the garden, although underwhelming to look at, is made up of over 100 carefully chosen Mediterranean and subtropical plants. 
It's well worth spending an hour here if you're interested in history.
Entrance: €1.50 per person
---
Savina Monastery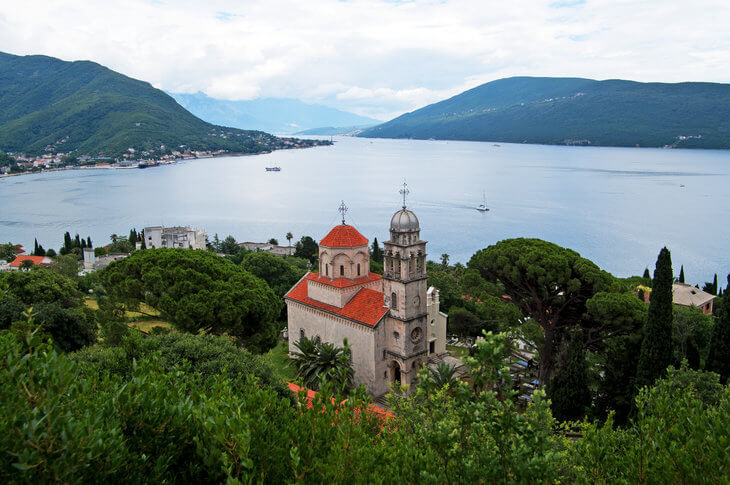 Savina Monastery
Image: Deposit photos
Savina Monastery (Manastir Savina) is about a 20 minute walk out of the old town towards Kotor and is signposted on the lower road. It's a popular attraction for Serbian and Russian guests and is always busy during religious holidays. 
The monastery dates back to 1030 and has a small museum. If you walk up the path past the graveyard, you'll be rewarded with beautiful views of the bay and Herceg Novi.
While you're up there, why not stop at Savina Winery and try some of their wines?
---
Boat Trips
Lustica Boat Trips
Boats depart from the marina and head over to Rose (the little village right opposite on the other side of the bay) and Lustica all day long. For as little as €6 per person you can take a boat trip over to Lustica or book a full day excursion.
If you book a whole day trip you'll stop at Mamula Island which lies right at the entrance to the bay. This used to be a prison and you can walk around the ruins and see what it used to be like.
The boat will then take you on up the peninsula on the Adriatic side to the 'Blue Cave' and will give you the opportunity to jump out and have a swim in the cave. Bring your goggles or snorkel mask for this.
After a refreshing cool off, you'll head back along the coast to one of the main beaches – probably Zanjice or Miriste – for lunch and to spend the afternoon lazing on the beach. The boats return you to Herceg Novi at around 5pm.
You can also get speed boats over to Rose, Zanjice and Miriste beaches if you want to just spend the whole day there. Pajo boats have tickets from Herceg Novi marina to Zanjice beach for €6 per person return.
---
Tennis
Are you a keen tennis player? In Topla, between the town and Igalo you'll find clay courts which are open to the public during the day and into the evening.
---
Drive to Kotor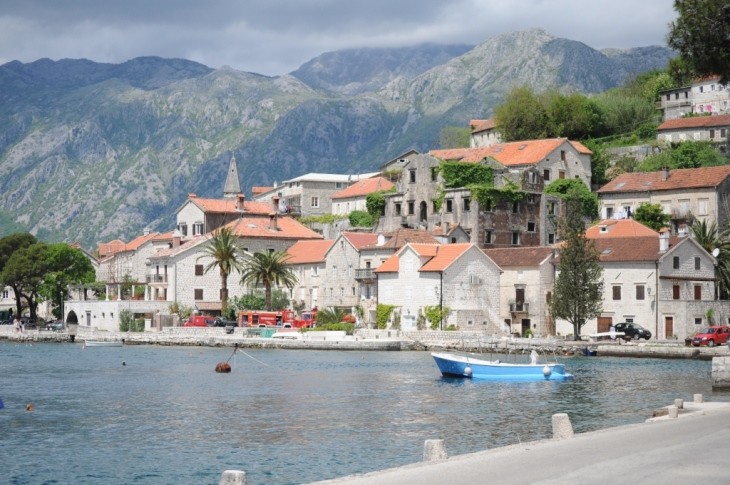 The UNESCO Heritage protected town of Perast
One of the things you must do while in Montenegro is drive around the Bay of Kotor.
This drive takes you right around the Bay of Kotor and I guarantee it will take your breath away.
Don't worry, there are plenty of places to stop along the way to make the most of the views. 
My favourite time to drive around here is early in the morning while there's still a mist hanging over the water and everything is dead calm. Plan a stop in Kamenari where there's a large lookout and you'll be rewarded with panoramic views of the bay, Perast and its two island churches - Our Lady of the Rocks and St George. 
You can stop in Perast on the way through, grab a boat to Our Lady of the Rocks and get a coffee or lunch in one of the waterside restaurants there. Conte Restaurant has the best cream pie (krempita) in the bay!
---
Hotels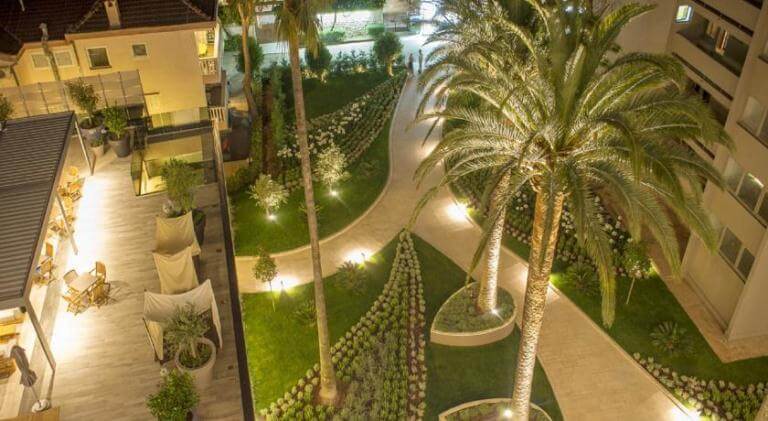 There are some really nice places to stay in Herceg Novi. Palmon Bay Hotel and Hotel Perla are two of the best. 
Almost everywhere here has sea views and the boats zipping around here all summer make for a fascinating backdrop.
Read More: Best Herceg Novi Hotels
---
Restaurants

Typical meals at Konoba Feral on the marina
Herceg Novi has some great places to eat out – day or night – during your holiday.
A stroll down by the marina or in the old town will bring you to some great seafood and Balkan grill restaurants.
But a short trip out of town will bring you to some really special restaurants, some of the best in Montenegro.
Read More: Best Herceg Novi Restaurants
Read More: Montenegrin Dishes You Must Try
Read More: Best Kotor Bay Restaurants
---
Parking
If you've got a rental car, you'll need to know about how to pay for parking.
There's a system of red zones in the most popular areas and yellow zones elsewhere. A coloured line on the ground will tell you which zone you've parked in. The red zone costs 80c per hour and the yellow zone costs 50c per hour. You can also pay for 24 hours of parking in the yellow zone for €5.
Paying by sms: You can pay for your parking by sending an sms with your full licence plate with no spaces eg. HNBC809. 
Red zone sms: 14511
Yellow zone sms: 14512
You'll see signs with these numbers dotted around. If you pay this way, you'll get a text 5 minutes before your hour is due to expire and you can send another sms to pay for another hour if you wish.
Paying by voucher: You can buy parking vouchers at any of the newspaper kiosks you'll see on the street. Just fill in the voucher and display it on your dash.
---
Herceg Novi Bus Links
Herceg Novi is serviced by two town buses. One does a circular route from Igalo to Meljine roundabout and back. The other goes from Igalo to Kamenari (the ferry terminal) and back.
Local's Tip: In Montenegro you get in the back door of the bus and pay the conductor sitting there. He'll expect you to have exact change or small coins and probably grunt unhappily if you try to give him large notes.
Igalo - Kamenari Bus Timetable
This is a full-size bus. Look for the sign saying 'Igalo - Kamenari - Igalo' in the front of the bus. The bus goes on the lower road past the old town on the way to Kamenari and along the main road on the return journey.
Departs Igalo every 30 minutes from 5.30am to 1am.
Departs Kamenari every 30 minutes from 5.20am to 1.50am.
* On Sundays it departs Igalo every 60 minutes on the hour and departs Kamenari every 60 minutes at 10 to the hour.
---
Igalo - Meljine Bus Timetable
This is a small bus. Look for a sign saying 'Igalo - Meljine - Igalo' on the dash.
Departs Igalo every 30 minutes from 6.15am to 8.45pm.
---
Herceg Novi's glory days might be behind it for now, but for some it's the perfect mix of history, sun and family-friendly hospitality. 
---
Explore More Towns in the Bay of Kotor...
Book Your Trip With My Recommended Providers