Rent a Car Montenegro – Hiring and Driving a Car in Montenegro 
This post may contain affiliate links which means that if you purchase through my link I may earn a small commission which helps to keep this site going. Thank you. You can find more info in my disclaimer.
Trying to figure out whether to rent a car in Montenegro and wondering where to get the best deals if you do? Read on to find out everything you need to know about hiring a car in Montenegro.
Montenegro is a stunningly beautiful and diverse country and hiring a car will help you make the most of it, even if it's just for a few days. 
Many of Montenegro's best attractions are natural beauties like rivers, lakes, canyons and panoramic drives. With a car you'll be able to experience them at your own pace and without the crowds. You can stop wherever you like for photos, enjoy a view without dozens of people also clamoring for photos, and visit hidden gems.
Having your own set of wheels really allows you to experience Montenegro's diverse scenery, but it also makes your stay pleasant and uncomplicated. Even if you're just staying on the coast, a car allows you to visit various towns and beaches, try the top restaurants and gives you flexibility with your accommodation choices.

Search Montenegro Car Rentals
Hiring a car in Montenegro is also very easy, the roads are good, and it's easy to find your way around. You'll be able to drive some of Montenegro's panoramic drives and experience the real Montenegro at your own pace.

But not everyone can or needs to hire a car during their stay in Montenegro. On this page I'll help you decide if you need car hire during your stay and if so, what you should know to make your rental as easy and affordable as possible.
Rent A Car in Montenegro Cheat Sheet

This is a long and in-depth article, but deciding whether to hire a car and hiring the right car can really make the difference during your stay, so I've tried to cover all the bases so you can make the right decision for your trip. If you don't have the time to go through it all here are the most important points:
To hire a car you must be at least 21 years old and have had your driver's license for at least 2 years. You don't need an international driver's license.
Book your car online and early to get the best choice and prices.
Localrent.com has the best prices, choice and service in Montenegro.
Make sure you get a car powerful enough for your needs.
You can drive your rental car to neighboring countries as long as you have a green card. 
Understand your insurance coverage and check the validity of your green card before you drive away.
Rent a Car Montenegro - Do You Need a Rental Car?
For most people, renting a car in Montenegro makes sense. It's easy to get around and you can experience a lot more of the country. And if you're visiting in summer it also makes getting around in the intense heat a lot more pleasant.
But hiring a car is a waste of time and money if you're not going to use it. You might find buses and taxis are all you need to get around.
Here are a few things to take into consideration when you decide…
You Might Not Need A Car If...
1.   Your accommodation is in a town center.
If you're staying in the center of a town like Kotor or Budva and don't plan to do much sightseeing, you don't need to hire a car for your entire stay. It's easy to get around on foot or by taxi. 
If you have a car and your accommodation doesn't have parking included you'll have to pay for it. Parking in towns runs at around 40c - €2 per hour. Generally, the busier the location, the more expensive parking is.
If you want to do some sightseeing you can book tours like the Great Montenegro Tour or North Montenegro Tour. Or you can a rent a car for just a few days. It's worth comparing the prices of car rentals and tours before you decide. Day tours start from around €50 per person and car rental starts from €25 per day, so you might find hiring a car is cheaper than booking tours, especially if there are at least 3 people in your group.
2.   You prefer tours.
The main advantage of having a rental car in Montenegro is being able to get out and enjoy the sights at your own speed. But if you prefer to join guided tours you could book accommodation close to a town center and take guided tours from there.

3.   Your accommodation isn't walking distance to restaurants but you want to drink with meals.
Perhaps you've booked accommodation and you don't plan on going much further than your pool… except to go out to dinner at night. Imagine days lounging by the pool and warm nights strolling past restaurants along the seaside. This is what Mediterranean dream holidays are made of right?!
If this is your plan for your holiday, just keep in mind that the alcohol limit for drivers in Montenegro is just 0.3 ppm. That means you can have one beer or wine if you're driving.
Luckily, taxis are inexpensive here so you can just call a taxi when you want to go out. Shops are open until late (usually 10pm in summer), so with a little planning for provisions you'll be able to take care of everything in one trip even if you don't hire a car.
You Should Hire A Car If…
1.       You want to do a lot of sightseeing.
With so much to see and do in Montenegro, most people want to make the most of it and get around the key sights. A car is invaluable here. With a car, you can fit several sights and activities into one day – something you'd never be able to do using public transport.
If you're planning to do even a little sightseeing, renting a car will help you make the most of your time. Most people spend one to two weeks in Montenegro and want to fit in as much as possible, so renting a car is more than worthwhile.
Because Montenegro is so small, you can fit a lot into one day. You can:
2.       You're staying in a remote area.

One of the best things about Montenegro is you can get beautiful accommodation overlooking the sea with little but wildlife for neighbors. But most of these places have no public transport or are up a steep hill so a rental car is essential.

3.       You're not a fan of walking up hills... in 35 degree heat.
If you're staying on the coast, you'll probably be close to the sea. But the mountains often jut right up from the sea all along the coast, meaning that there could be a steep uphill climb to your accommodation from the beach. This can be hard work in summer when the heat is intense. Hiring a car means that you have the flexibility of driving to the beach and exploring other beaches all over the coast.
discover kotor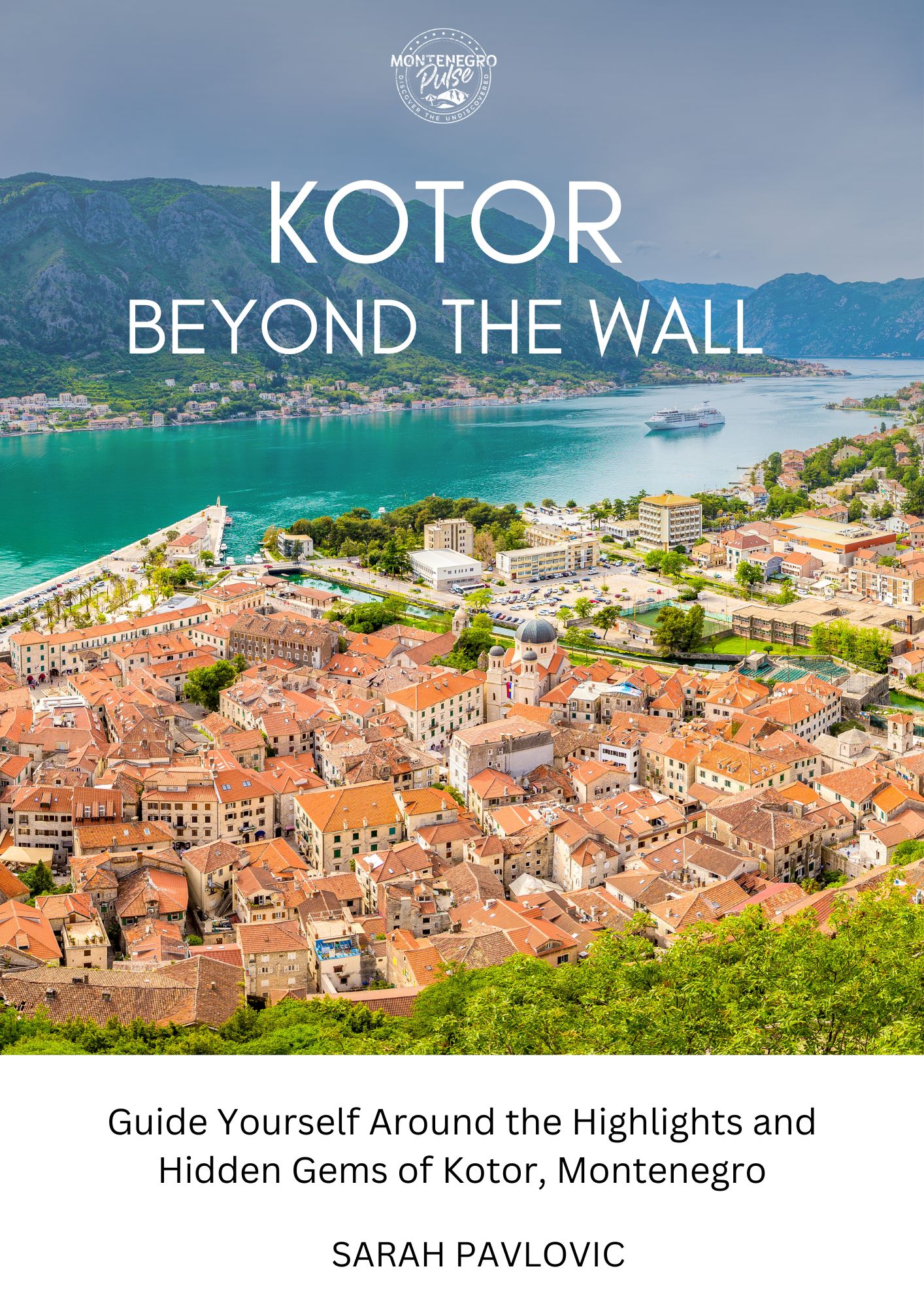 Guide yourself with the
"World's Best Guide to Kotor"
Top attractions
Hidden gems
Bonus walking tour
What to eat
Exclusive experiences
Essential visitor tips
Rent a Car Montenegro - Requirements
Different rental car companies have different requirements, but if you meet these minimum requirements you'll be able to hire a car in Montenegro:
Be at least 20 years old
Have a driver's license. Your driver's license from home is enough; you don't need to have an international driver's license. You license needs to be at least two years old to show you have at least two years' driving experience. If your license has recently been reissued bring your old one as well for proof.
Money for a deposit. Rental car companies take deposits either in cash or by blocking an amount on your bank card to cover damages. This means the company doesn't withdraw that money, but it's frozen in your account. Any damage up to the value of your deposit will be paid for from your deposit. If you don't want to have hundreds of euros blocked you can take SCDW insurance, more on that below. 
Rent a Car Montenegro - Best Rental Options
There are two options for hiring a car in Montenegro: small local companies or international companies, like Avis, Hertz and Sixt. Here's how they compare:

Local Car Rental Companies
There are lots of small local rental companies in Montenegro. Being small owner-operator companies, they can be flexible, have lower prices and a range of vehicles to choose from. 
Rather than trying to find and contact them all, I recommend finding a car with them through Localrent.com. Because the local companies are competing against each other on this platform the prices are cheaper than if you booked with the rental car company directly.
Localrent.com has gathered all the reputable small car rental companies in Montenegro and has made it easy to compare and book a car in one place. This saves you hours of research and comparison before your trip or when you get to Montenegro. This is the most popular place to rent a car in Montenegro.
Here are some of the benefits of booking your car with Localrent.com:
You have a large range of cars, motorbikes and even buggies to choose from.
You get the exact car you book. Not a 'similar' car in the same class, as you do with international companies.
Prices are 5-25% cheaper than elsewhere.
All their terms and conditions are standardized and easy to understand, so you don't spend hours reading fine print.
They provide local support.
You can choose your car and book online with no hidden costs.
They have pick-up and drop-off at 28 locations around Montenegro instead of just the two airports and a couple of coastal towns.
In the unlikely event there's a dispute between you and the car rental company, the company will often give in because they get so much business from Myrentacar.com. When you're dealing directly with a rental car company you don't really have any bargaining power.
Here's what you'll need to hire a car from a local company through Myrentacar.com:
Driver's license.
Be at least 21 years old and have at least 2 years of driving experience. If you don't meet these criteria I recommend contacting them directly to see if they can accommodate you.
Security deposit: €100-300 cash (or card if you let them know in advance).
International Car Rental Companies
You can also hire cars from international car rental companies like Hertz, Avis and Sixt in Montenegro. These companies tend to have stricter conditions and be more expensive.
Typically when you rent a car from an international company you can expect:
Here's what you'll need to hire a car from an international company:
Driver's license (some may ask for an international driver's license).
Be at least 22 years old and have at least 1 year driving experience.
€500 - €3000 available on a credit card that will be blocked until you return the car.
Enterprise are one of the best-rated international brands in Montenegro. You can book cars with these companies at Rentalcars.com. 
Rent a Car Montenegro - Choosing a Car
Localrent.com has the best range of cars available, including convertibles and four wheel drives. I also like that with them you get the exact car you book, so if you're discerning about cars, you can choose the exact make and model you prefer.
Here are some tips to help you choose a car:
Size: when I was booking Montenegro holidays for a tour operator a lot of families would arrive with a piece of luggage each and couldn't fit it all in the car they'd hired. This meant that after a long trip they'd have to make two trips from the airport to their accommodation, which isn't so bad if you're staying nearby. But it was virtually impossible if they were flying into Dubrovnik and driving into Montenegro.
When you're choosing a car make sure it can fit your luggage if you're picking it up at the airport. Alternatively, you can book airport transfers and collect your rental car the next day.
At the same time, Montenegro's roads and parking areas are tight, so a compact car is easier to get around in, particularly on the coast where space is at a premium. My advice is to get the smallest car that's big enough for your needs.
Power: Montenegro has a lot of steep roads and if your accommodation is up a hill (which is often where you get those amazing sea views) you'll need a car with enough power to get you up it. A car with an engine of least 1.5L is best, and if you'll need to drive up a hill with a full load of people and luggage or you plan to do some sightseeing through the mountains, I'd recommend taking a car with at least 1.8L.
Convertibles: hiring a convertible can be lots of fun. There are a few things to keep in mind though. Summer heat can be intense, and so can the traffic along the main highway that runs down the coast. This means convertibles can turn into saunas in the height of summer when you're stuck in traffic.
The weather in the mountains can be as cold as 15°C (59°F) during the summer, so you might not get any use from a convertible in the mountains either.
Convertibles are best in May, June, September and October, when the heat and traffic are moderate. And they're best reserved for the coast. You can easily hire one for a few days on the coast and switch to something sturdier if you head into the mountains.
Age: cars that are somewhere between 5-10 years old make good rentals. They're still relatively new and comfortable, but they probably already have a few scratches on them so there's more of a chance any scratches you make will be overlooked.
Rent A Car Montenegro - How Much Does It Cost?
If you have a list of places that you want to visit, hiring a car can be much more cost-effective than booking tours to each place. 
For example if you want to go rafting the price is €55 per person, but if you need a transfer the price for a family of four will be an extra €100. Hiring a car pays for itself quickly as well as giving you flexibility. 
Car rental in Montenegro starts from around €25 per day for a compact car and goes up depending on the size of car you need. Here are some general price guides:
Economy: from €25 per day.
Standard: from €30 per day.
SUV: from €40 per day.
Luxury: from €50 per day.
Convertibles: from €53 per day.
Vans: from €60 per day.
Motorbikes and buggies: from €45 per day.
You can see current cars and prices with Localrent.com below:
Extra Costs
Renting a car often comes with some extra costs that you should be aware of:
Extra drivers: international rental companies often charge a fee (around €6 per day) if you want more than one person in your group to be able to drive the car. This is usually free with Localrent.com.
Delivery: you might be charged if a car needs to be delivered to you.
Cross-border delivery: if you want to pick up a car in Montenegro and drop it off in another country, like Croatia, it typically costs around €350 for a cross-border drop off.
Green card: if you're planning to take a day trip to Croatia or Bosnia and Herzegovina, you'll need a green card which gives you cross border insurance. Sometimes there's a surcharge for this although the owner pays for it annually when they register the car, so it should really be free of charge.
Optional extras: you can book upgrades like superior insurance, child seats and even roof racks with any company you choose to hire your car from. I wouldn't recommend paying extra for a navigation system. They're not reliable in Montenegro and you'll get better results from the Google Maps or Maps.me apps. Click here to find out how to download an offline map for Montenegro that you can use without using your data.
Rent a Car Montenegro - When to Book
Like most things, booking your rental car early gives you the best choice, especially if you book with Localrent.com and want to choose a specific car.
I'm also a big believer in making things smooth and easy when travelling. It's much easier to have your rental car waiting for you at the airport when you arrive than to go wandering around a foreign town comparing prices and reading fine print on the first day of your vacation.
If you haven't booked your rental car in advance, you'll find rental car companies at the airport and in all major towns (Kotor, Budva, Herceg Novi etc). The downside to waiting until arrival is you'll have to choose from what they've got onsite, which may be just oversized or expensive vehicles, or you'll have to wait until they can get a car delivered from another location. 
Most of the international brands have booths at Podgorica and Tivat airports. However, if a lot of people from your flight have booked cars you still might have to wait an hour in a queue to collect your car. 
You might think it would be cheaper to hire a car with a local company when you get here, but usually walk-in prices are significantly higher than when booking online through Localrent.com. The advantage is you may be able to haggle on the price, but you're unlikely to get it cheaper than if you booked online from the comfort of home.
Rent a Car Montenegro - Insurance Explained... in Plain English!
All rental cars come with some form of insurance. Although it's not the most interesting thing to research for your holiday, understanding and choosing the right insurance type for your rent a car in Montenegro can help save you money and from having problems later on.

Deposits
No matter what kind of insurance you take, your rental car company will take security deposit. This amount is your deductible in case you have an accident.
One of the advantages of booking with Localrent.com is the deposit is much less than with international rental companies. The security deposit with Myrentacar.com is usually €100-300, is payable in cash and it's returned to you as soon as you return the car. 
With international companies the deposit is at least €500 and can easily be €1,000-2,500 if you hire a nice car. You must have a credit card to pay the deposit; they don't accept debit cards. They don't actually charge your card, but the deposit amount is blocked so the company can take it if you decide to take off into the Montenegrin wilderness and never come back. When you return your car and go home, they'll remove the block.
The thing is that if you hire a nice car you could have a significant amount of money tied up in this deposit. And even when they remove the block it usually takes 3-5 days for the money to be available again.
TPL – Third Party Liability Insurance
All rental cars come with third party liability insurance. This means that if you damage another car, the insurance will cover damage to the other car. It doesn't cover damage to your rental car and any damage you do will be paid for with your deposit.

CDW – Collision Damage Waiver

Collision Damage Waiver (CDW) covers your rental car's bodywork in case you have an accident. But it doesn't cover the tires, windows, wheels, engine, lights, mirrors, undercarriage or interior.
With CDW you also have to pay an excess/deductible if the car gets damaged. This can be the full amount of your deposit. So, if you incur €1,000 worth of damage to your rental car and your deposit is €500, you'll lose your €500 and the insurance will cover the remaining €500.
SCDW – Super Collision Damage Waiver

Most damage to rental cars in Montenegro are minor dents and scratches. If you're an experienced driver who's never had any accidents your chances of having an accident in Montenegro are small.
Keeping in mind that your deposit is your deductible amount, you might be better off without CDW or SCDW because you'll have to pay for minor damage anyway.

If you want all-inclusive car rental in Montenegro you need to buy Super Collision Damage Waiver (SCDW). With SCDW your deductible is less or even zero, so you might not have to pay anything if the car is damaged or in an accident.
SCDW covers more than just the bodywork. Each policy is different however, especially with international rental companies, so you'll need to read the contract carefully before you sign it.
Before you book check whether your credit card includes CDW. Many American credit cards in particular include SCDW. If it does, make sure you check that the countries you'll be driving in are covered and use that card to pay for your rental.
If you end up involved in an accident in Montenegro, it's important to follow these rules:
Call your rental car company.
Call the police on 122.
Don't move your car. Even if it's a small fender-bender and you're blocking the traffic don't move your car. The police require the cars stay as is and you'll need a police report to claim insurance. Without the police report you'll liable for 100% of the cost of the damage.
Rent a Car Montenegro - Driving to Other Countries & the Green Card

You can drive your rental car from Montenegro to surrounding countries. Every company has its own rules, but usually the only exceptions are Albania and Kosovo.
You'll need a green card (zeleni karton), which gives you insurance cover in a foreign country to cross the border and this is issued by your rental car company. Make sure your green card is valid before you take your car, if it's expired you'll be turned back at the border.
Rent a Car Montenegro - Renting a Car in Croatia
It's really common for people holidaying in Montenegro to fly into Dubrovnik in Croatia because there are often better and cheaper flight connections. 
But what about hiring a car?
The good news is you can hire a car in Croatia and drive it across in Montenegro. When you collect your car make sure you tell them you'll be driving into Montenegro. They'll issue you with insurance cover for Montenegro known locally as a 'green card'. If you don't get it from your car rental company you can buy it at Debeli Brijeg border.
Rent A Car Montenegro - One Way Rentals
One of the most frequent questions I get asked is whether it's possible to hire a car in Montenegro and return it in Croatia.
One way rentals are available between Montenegro and surrounding countries, but they're expensive. It costs around €350 to pick up a car in one country and drop it off in another. 
In my opinion, the best option is to book a transfer to Dubrovnik Airport and hire a car there. That way you can drop it off anywhere in Croatia without a cross-border fee. Dubrovnik Airport is only 45 minutes from Herceg Novi (the closest Montenegrin town to the Croatian border) and a transfer costs €30-50. 
In both Croatia and Montenegro, car rentals usually come with one primary driver. If you want more than one person in your group to be able to drive the car (eg. so one person doesn't get saddled with being the sober driver every night) you'll need to pay an additional driver fee for each extra driver, usually €10 per person per day. 
Rent a Car Montenegro - Tips for Driving in Montenegro
Take photos and video of your rental car: when you collect your rental car take photos and video of the car from all angles. Try to get the rental agent in the photos and video too so you can prove they were taken when you collected the vehicle. Be sure to get good shots of the bumpers, mirrors, doors and anywhere else that's easy to damage. This way, if there are any disputes when you drop the car off, you can easily check whether the damage was already there when you collected the car.
Don't drink: the blood alcohol limit for driving is only 0.3 ppm, which means you can have no more than a glass of beer or wine if you're driving. Don't go near rakija (grape brandy) if you're driving, it's so strong it'll put you waaay over the limit.
If you do drink and drive and your blood alcohol level is between 0.3 and 0.5, you'll be fined €50. If it's over 0.5 the police will take your license and you'll have to go to court.
Watch speed limits carefully: there are no general speed limits and the speed limits change often and without rhyme or reason. Make sure you pay attention to them and don't go more than 5km/h above. There are a lot of police on Montenegrin roads.
Headlights on: in Montenegro you must drive with your headlights on day and night.
Car washes: your car rental contract might specify that you must return the car as clean as when you got it. If you need to wash your car look for an autopraona. There are diy car washes where you can wash the car for around €2. There are also autopraonas where you can also get someone else to wash it for you about €5.
The locals are crazy: If I had a dollar for every time someone asked me 'are the drivers in Montenegro crazy?' I'd be sitting back writing this from my own private island!
The short answer is yes. They overtake on blind corners, they're impatient, they beep their horns a lot and they pay no attention to those speed limits I just mentioned. 
But they're also very good drivers in general. They can pass each other on a road you'd swear two horses couldn't pass each other on. They can park a giant SUV in a space made for a Mini. And road rage is limited to some shouting and hand waving... even the old one finger salute is a line Montenegrins won't cross and I recommend you don't either.
Just ignore them and take your time. They've been driving these roads all their lives. They know how to talk their way out of a fine, or have friends to take care of it for them. In short, when in Montenegro, don't drive like a Montenegrin! Drive defensively and if someone beeps wave your hands and make it clear you're a foreigner and they'll back off.
Take your time: Montenegrin roads are generally narrow and windy. There will probably be times when you'll have to back up on a one-lane road to let another car pass. There might be times when you have to navigate a steep and pot-holed road. Just take your time and drive carefully.
Rent a Car Montenegro - Parking
Parking is generally easy and often free in Montenegro. Most towns have street parking and parking lots close to the center. Parking is priced between 40c and €2 per hour and you can pay by text message or in cash. You can also download an app called SMS Parking MNE, which covers parking in different cities around Montenegro.
If you use paid street parking you'll need to look for a sign with the price and the number to send your SMS to. Then you send an SMS of your number plate to that number. For example, if your number plate is KO-BM160 you'll send 'KOBM160' (it doesn't matter if you use uppercase or lowercase letters) to the number on the sign. You'll usually get an SMS five minutes before your parking expires and you can renew by sending another SMS. 
Street parking often has different zones. If you move your car to a different zone, eg from yellow to red, you'll need to pay again, even if you're moving to a cheaper zone.
The easiest places to park are parking lots. You get a ticket when you enter and pay for however much time you've used when you exit.
Many locals park anywhere there's space, especially in the peak season when parking can be harder to find. I don't recommend doing this, each town has trucks called 'spiders', which lift a car up, put it on the back of the truck and take it to the impound. If your car gets impounded it will cost you around €80 to get it released.
Ready to Rent a Car in Montenegro?
If you've made it this far well done!
Now you know all there is to know about renting a car in Montenegro and can book with confidence.
If you were hesitant about renting a car in Montenegro, I really hope your fears have been allayed. Montenegro is a fantastic country to explore on road trips and I know you'll be glad you decided to get out and explore if you do!
---
Pin This
More popular Pages
Rent a Car Montenegro
help the stray animals of Montenegro
Book your accommodation anywhere in the world through any of the search boxes on our site and we'll make a donation towards sterilising stray animals in Montenegro. 
It costs you nothing, and you get the biggest selection and lowest prices guaranteed. It's a win-win!