Rent A Car Montenegro
This post may contain affiliate links. Find more info in my disclaimer.
Trying to figure out whether to rent a car in Montenegro and wondering where to get the best deals if you do? Read on to find out everything you need to know about hiring a car in Montenegro.
Rent a car Montenegro
One of the decisions you'll need to make before your arrival is whether to rent a car in Montenegro or not. 
On this page I'll help you decide if you need car hire during your stay and answer the most commonly asked questions.
---
When you book with Myrentacar you're supporting many small local companies here in Montenegro. Myrentacar works with lots of local partners to bring you a large range of good-quality rental cars at affordable prices.
---
Quick Links
What do you need to hire a car?
All inclusive car hire in Montenegro
Renting a car in Croatia and driving across
One way rentals with cross-country drop-off
How to find the perfect car at the cheapest price
---
Rent A Car Montenegro - Do You Need A Rental Car?
For most people, taking a rent a car in Montenegro makes a lot of sense. It's easy to get around and you can do a lot more sightseeing with a car than without. 
Montenegro has a small population and we don't have large-scale public transport links like major cities. There are local buses that run between the main towns daily and they're easy to use (although the timetables aren't always easy to find). And there are many locations, like Lustica Peninsula, where you simply can't do without a car.
But hiring a car is a waste of time and money for some. If you're not going to use it or will spend less on taxis than you would or car hire, then there's no reason to get a car.
First, let's look at the reasons you might not need a car.
---
You Might Not Need A Car If...
1.   Your accommodation is in a town centre.
When you stay in the centre of town, you'll have restaurants and attractions on your doorstep. You won't need a car to go out for dinner. This is perfect if you're planning to spend your time relaxing and don't want to go far. If you want to do a lot of sightseeing, I'd recommend hiring a car because using public transport to get to places like Skadar Lake on a day trip just isn't viable.
In the centre of town, you'll also have easy access to buses and taxis. These are both inexpensive and regular. Keep reading to find out more about buses below.
If you have a car and your accommodation doesn't have parking included you'll have to pay for it. Parking in towns runs at around 80c per hour. 
2.   You prefer tours to independent sightseeing.
The main advantage of having a rental car in Montenegro is being able to get out and enjoy the sights. But if you prefer to join tours, a car would be a waste of money for you.
You could book accommodation that's close to the centre of town and take guided tours from there.
3.   Your accommodation isn't walking distance to restaurants but you want to drink with meals.
Perhaps you've booked a hotel and you don't plan on going much further than your pool… except to go out to dinner at night. Imagine days lounging by the pool and warm nights strolling past restaurants along the seaside. This is what Mediterranean dream holidays are made of right?!
If this is your plan for your holiday, just keep in mind that the alcohol limit for drivers in Montenegro is 0. Zip. Nada. Yep, that means enjoying a glass or two of Montenegrin Vranac with dinner is off the menu if you're driving.
Luckily, taxis are inexpensive here so you can dispense with the rental car and just call a taxi when you want to go out.
Shops are open until late (usually 10pm in summer) so with a little planning for provisions, you'll be able to take care of everything in one trip.
---
You Should Hire A Car If…
1.       You want to do a lot of sightseeing.
With so much to see and do in Montenegro, most people want to make the most of it and get around the key sights. A car is invaluable here. With a car, you can fit many things into one day – something you'd never be able to do using public transport.
Because Montenegro's so small, you can fit a lot into one day. You can:
Drive all the way to the north of the country, go rafting and drive back to the coast again.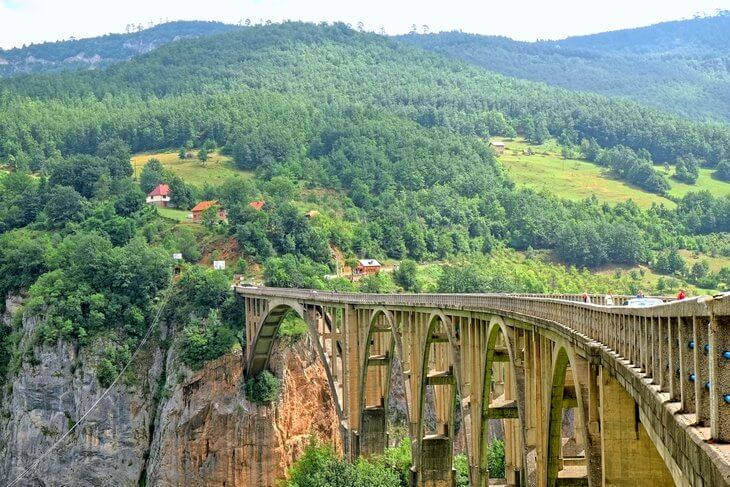 Djurdjevica Tara Bridge over the Tara Canyon. Image: Deposit Photos.
Drive from Herceg Novi (the north coast) to Ulcinj (the south coast) and back, stopping along the way.
Visit Skadar Lake, Bar and see the Budva Riviera in one day.
Skadar Lake
Drive around the Bay of Kotor and stop wherever you like along the way.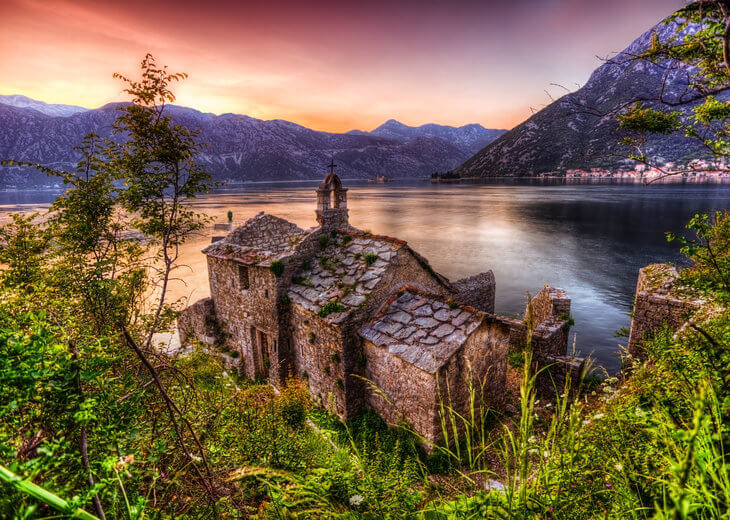 Discover the scenic delights of the Bay of Kotor. Image: Deposit Photos
You can also design a complete Montenegro tour and spend a night or two all around the country.
If you're planning to do a bit of sightseeing, renting a car really does make life easier and you can fit much more in in the time that you have. Most people stay 1-2 weeks, so want to fit in as much as possible in that time and find car rental more than worthwhile.

2.       You're staying in a remote area.
One of the best things about Montenegro is you can get beautiful accommodation overlooking the sea with little but wildlife for neighbours.
In this case, I'd recommend car rental. There won't be public transport servicing the area and a car will be your only way of getting out and about.
Even if you're staying somewhere relatively populated like Krasici on Lustica Peninsula, there's no public transport so you need a car to go anywhere.
3.       You're not a fan of walking up hills... in 35 degree heat.
If you're staying on the coast, you'll probably be pretty close to the sea. But that doesn't necessarily mean walking distance.
Over here, the mountains jut right up from the sea all along the coast and inside the Bay of Kotor, meaning that there could be a steep uphill climb to your accommodation from the beach.
Having a car means that you have the flexibility of driving to the beach and exploring other beaches all over the coast.

---
Rent A Car Montenegro - What Can You Do?
With car rental you'd be able to visit Skadar Lake and Bar in a single trip, which you wouldn't be able to do if you were travelling by bus.

Lustica Peninsula has no bus links at all, so if see that's on your agenda or you'd like to stay there, you'll definitely need car hire. 
If you really want to get the most out of your stay, I do recommend getting a rent a car in Montenegro.
There are so many beaches and coves along the Budva Riviera to explore and interesting places that you can only get to if you've got a car.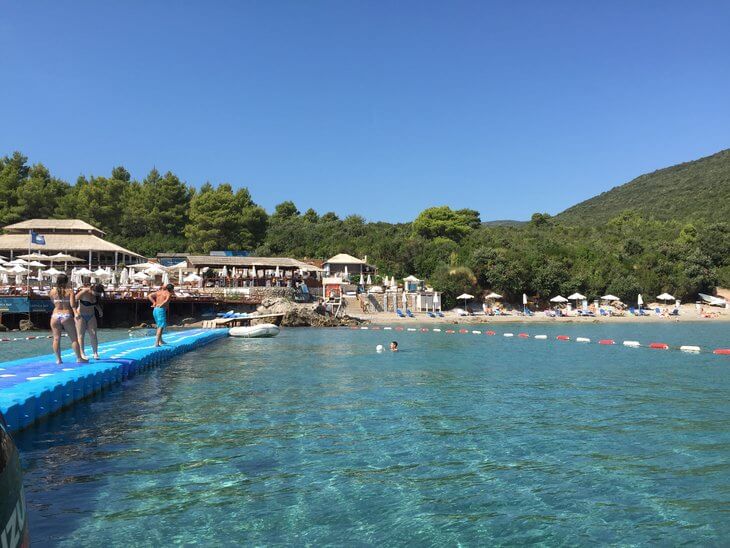 Rent a car Montenegro - visit popular beaches, like Almara Beach Club, which don't have public transport links
---
Rent A Car Montenegro - How Much Does It Cost?
Rent a car in Montenegro starts from around €24 per day and goes up depending on the size of car you need. 
If you have a list of places that you want to visit, hiring a car can be much more cost-effective than booking tours to each place. 
For example if you want to go rafting the price is €55 per person, but if you need a transfer the price for a family of four will be an extra €100. Hiring a car pays for itself quickly as well as giving you flexibility.
---
Rent A Car Montenegro - What Do You Need?
Montenegro car rental is very easy. You don't need an international driver's licence, your licence from home is fine. You will need:
To be at least 18
A credit card
---
Rent A Car Montenegro - All Inclusive Car Hire
If you want all inclusive car rental in Montenegro, you need to buy Collision Damage Waiver (CDW) or Super Collision Damage Waiver (SCDW). I recommend you do this when you book your car because it's almost always cheaper to buy in advance than on arrival.
If you don't buy the CDW you'll have basic third party liability, but will be liable for damage to your rental car up to the excess/deductible amount (usually around €500). With SCDW your excess/deductible is 0, so you won't have to pay anything if the car is damaged or in an accident. 
Be aware that with CDW there are two types: Zero Excess and Refundable Excess. With Zero Excess you won't have to pay anything in case of an accident. With Refundable Excess you'll need to pay the excess then apply to have it refunded to you. 
Before you book check whether your credit card includes CDW. Many American credit cards in particular include SCDW. If it does, make sure you check that the countries you'll be driving in are covered and use that card to pay for your rental.

Click here for a good explanation of car insurance options in Europe. And you can find more information specifically about Montenegro here.
Whether you take CDW or not, your rental car company will block a mandatory amount on your credit card for security. They don't charge your card, but the amount is blocked so the company can take it if you decide to take off into the Montenegrin wilderness and never come back. When you (reluctantly) return your car and go home, they'll remove the block. 
Make sure you check how much the block is when you're renting the car. It can easily be €1,000-2,500. You don't want to be relying on using your credit card while on holiday only to find you don't have any access to money because the car rental company's block is more than you anticipated. 
I do recommend having all inclusive car rental in Montenegro because the small extra fee could save you a lot if the car is damaged at all. Small parking spots, narrow roads and overall poor roading mean that it's easy to get small scratches... or rip off your front bumper like this couple I saw leaving the beach yesterday! Even if it's not your fault, a small scratch can cost upwards of €100 when you return the car.
What To Do If You're In An Accident With Another Vehicle
If you end up involved in an accident in Montenegro, it's important to follow these rules:
Call the police on 122.
Don't move your car. Even if it's a small fender-bender and you're blocking the traffic, don't move your car. The police require the cars stay as is and you'll need a police report from them for your insurance. Without the police report you'll be up for 100% of the cost of the damage.
You'll also need to contact your car rental company to let them know about the accident.
---
Rent A Car Montenegro - Renting A Car in Croatia
It's really common for people holidaying in Montenegro to fly into Dubrovnik in Croatia because there are often better and cheaper flight connections. 
But what about hiring a car?
The good news is you can hire a car in Croatia and drive it across in Montenegro. When you collect your car make sure you tell them you'll be driving into Montenegro. They'll issue you with insurance cover for Montenegro known locally as a 'green card'. If you don't get it from your car rental company you can buy it at the border.
---
Rent A Car Montenegro - One Way Rentals
One of the most frequent questions I get asked is whether it's possible to hire a car in Montenegro and return it in Croatia.
One way rentals are available between Montenegro and surrounding countries, but they're expensive. It costs around €350 to pick up a car in one country and drop it off in another. 
In my opinion, the best option is to book a transfer to Dubrovnik Airport and hire a car there. That way you can drop it off anywhere in Croatia without a cross-border fee. Dubrovnik Airport is only 45 minutes from Herceg Novi, the closest town to the Montenegro-Croatia border.
---
In both Croatia and Montenegro, car rentals usually come with one primary driver. If you want more than one person in your group to be able to drive the car (eg. so one person doesn't get saddled with being the sober driver every night!) you'll need to pay an additional driver fee for each extra driver, usually €10 per person per day. 
---
Rent A Car Montenegro - Local Tips for Driving in Montenegro
Don't Drink Any Alcohol: The blood alcohol limit for driving is 0 in Montenegro. That means you can't have any alcohol if you're driving. Take a taxi instead.
Watch Speed Limits Carefully: There are no general speed limits eg. the speed limit is always 50km/h in towns or 70km/h in rural areas. The speed limits change often and without rhyme or reason. Make sure you pay attention to them and don't go more than 5km/h above. Getting a fine and having to go to traffic court is expensive and can put a stop to your carefully-laid holiday plans.
The Locals Are Crazy: If I had a dollar for every time someone asked me 'are the drivers in Montenegro really crazy?' I'd be sitting back writing this from my own private island!
The short answer is yes, yes they are crazy. They overtake on blind corners, they're impatient, they beep their horns a lot and they pay no attention to those speed limits I just mentioned. 
But they're also very good drivers in general. They can pass each other on a road you'd swear two horses couldn't pass each other on. They can park a giant SUV in a space made for a Mini. And road rage is limited to some shouting and hand waving... even the old one finger salute is a line Montenegrins won't cross.
Just ignore them and take your time. They've been driving these roads all their lives. They know how to talk their way out of a fine, or have friends to take care of it for them. In short, when in Montenegro, don't drive like a Montenegrin! Drive defensively and if someone beeps wave your hands and make it clear you're a foreigner and they'll back off!
Take Your Time: There will probably be times when you'll have to back up on a one-lane road to let another car pass. There might be times when you have to navigate a steep and pot-holed road. Just take your time and drive carefully.
Get The Right Car: You might be tempted to go for the smallest car, but consider an upgrade if you're in either of these situations:
You've booked a place to stay that's up a steep hill. I know of people who've had to get all their passengers and luggage out just so their car could make it up the hill to their accommodation. The views are great, but you should make sure you've got a car with decent power to get up there.
You're travelling as a family. Kids need stuff. Lots of stuff usually. Husbands, don't make your wife choose between her evening sandals and daytime sandals. Make sure you book a car with enough storage space for all your bags.
---
Rent A Car Montenegro - Find The Best Car At the Cheapest Price
I have two recommendations for finding great, and cheap, car hire in Montenegro:
Myrentacar
Myrentacar is a car rental company that focuses on just eight European countries and aims to be the best in those locations. They partner with local car rental agencies to bring you a huge range of vehicles at significantly cheaper prices than you'll find elsewhere else.
There are a few reasons why I recommend this company:
They have hands-down the best range of cars in Montenegro
They also have the best prices in Montenegro - 5-25% cheaper than elsewhere
When you choose a car you are choosing the exact car you'll hire. When you hire a car elsewhere, you'll choose the category of car (standard, economy, luxury etc), but won't know what you're getting until you arrive to collect the car. With Myrentacar you know exactly what you're getting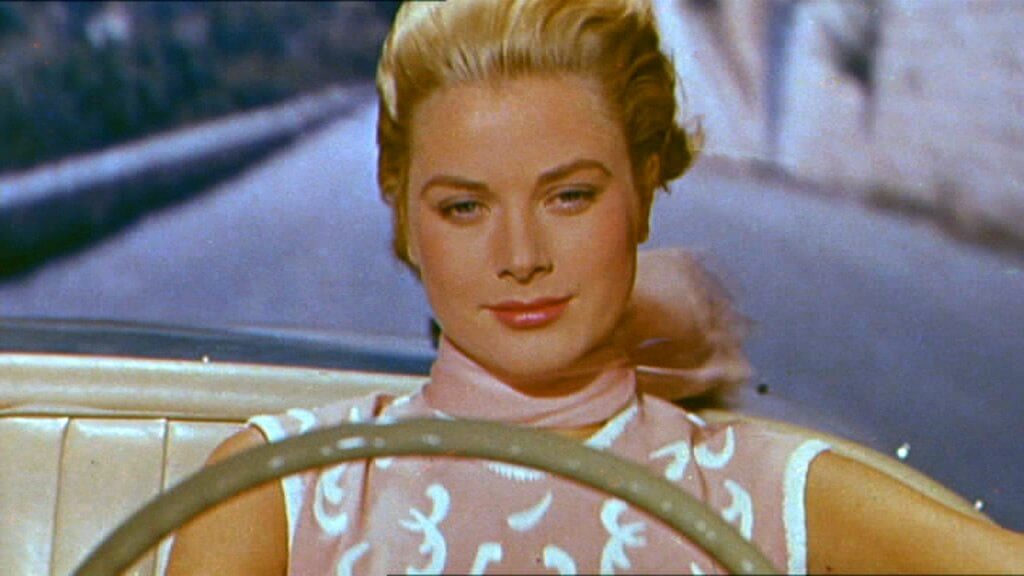 This could be you
International brands here don't have out-of-the-box options like convertibles. Feel like zipping down the Budva Riviera like Grace Kelly with the wind in your hair? With Myrentacar your fantasy can come true... I won't tell ;-)
Their head office is in Budva and they have 24/7 English, Russian and Montenegrin-speaking support in case anything goes wrong with your car
You can collect a car just about anywhere in Montenegro. With larger companies you're limited to Podgorica, Budva, Kotor, Tivat or Herceg Novi
Search Myrentacar Cars
---
Auto Europe
Auto Europe is the top car rental destination for car hire in Europe. You can compare rates among different rental car companies and see the full range of models available at a glance.
If you're from the US they also have GPS at cheaper rates than you'll find locally. 
I've added a car hire search box below so that you can search car hire options and book directly online. 

Although Montenegro isn't specifically covered (yet!), Auto Europe have a handy guide if it's your first time driving in Eastern Europe. I've asked and Montenegro falls into Zone 2. You'll definitely want to read this if you're driving through neighbouring countries like Croatia and Serbia too. You'll find more specific information about renting cars in Croatia and Serbia on this page too. 
Local's Tip: It's illegal to drink any alcohol before driving in Montenegro. Make sure you don't have anything to drink if you're planning on driving.
If you want to enjoy a drink or two when going out for dinner, I'd recommend taking a taxi - they're very inexpensive and readily available in every town. Find taxi numbers around the country here.
Wondering where you can take your rent a car in Montenegro?
I have a list of Montenegro's most scenic drives right here.
Pin This
More popular Pages
Rent a Car Montenegro
help the stray animals of Montenegro
Book your accommodation anywhere in the world through any of the search boxes on our site and we'll make a donation towards sterilising stray animals in Montenegro. 
It costs you nothing, and you get the biggest selection and lowest prices guaranteed. It's a win-win!