Montenegro Pulse contains affiliate links and is a member of the Amazon Services LLC Associates Program. If you make a purchase using one of these links, I may receive compensation at no extra cost to you. See my disclaimer for more information.

Montenegro Hiking Break
On the Hiking Break, you'll experience the beautiful and unspoilt nature of the Piva Region over three days. 

This tour includes:
Hike above Piva Lake.
Hike to a glacier.
Hike to an ice cave.
Lake cruise with optional fishing and swimming.
You'll also get to try the cuisine of northern Montenegro – a very underrated cuisine in my opinion! Think slow-roasted meat that falls of the bone, roast potatoes, fresh salads, crusty  breads and tasty cheeses… makes me hungry just thinking about it!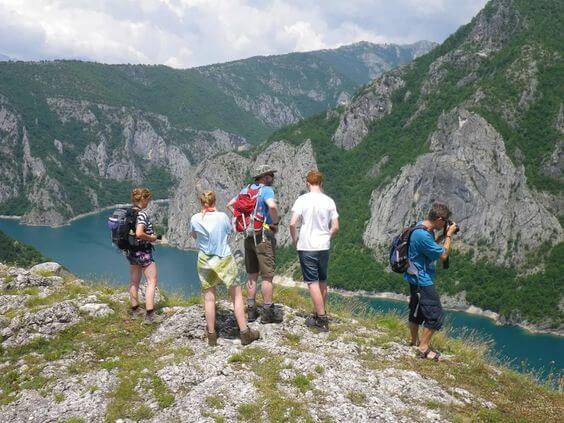 Hiking around Piva Lake gives you stunning views of the area
Click on any picture on this page to open the picture gallery.
And the great thing is there's no need to feel guilty about indulging in all the delicious food… this hiking break will give you plenty of opportunity to work up an appetite!
During the break you'll stay in traditional wood and stone cabins overlooking the lake. This is the perfect place to relax and unwind after a day's hiking.
If you're looking for a longer hiking holiday, you might be interested in the 7 day Hiking Holiday.
---
Montenegro Hiking Break Itinerary
Day 1 - Piva Lake hike and Cruise
You'll be picked up from your accommodation in the morning. There's a  scenic drive to the north and then you get a  home cooked breakfast on arrival.

After filling up on a mountain breakfast you'll head out for around 7 km of casual hiking through undisturbed nature. Here you'll get beautiful views of the contrast between the rolling hills and steep cliffs towering over Piva Lake.
The hike finishes down on the banks of the lake where you get on a boat for a 2 hour Piva Lake Cruise. On the cruise you can try your hand at trout fishing, cool off in the lake or just sit back and enjoy the stunning scenery... ahhh, it's so idyllic!

When you get back to the ethno-village, you'll have a freshly prepared lunch and then have time to relax before dinner and an overnight stay in the village's cabins.

Day 2 - Glacier Lake Hike
Today starts with an early breakfast and a short drive to the village of Stabna. This is where you'll start the Glacier Lake Hike.
The circular hike takes you through fields, forests and gravel tracks until the lakes come into view.
There are two stunning lakes to visit, the highest one at an altitude of 1,300m above sea level.
From there, it's a short walk to a spring where you'll have a packed lunch in the peaceful surroundings of the upper lake.
The hike takes around 6 hours including breaks. Afterwards, you return to the ethno village for a well-deserved dinner and overnight stay.
After a day's hiking you can reward yourself with an optional visit to a local jazz café to try some home-made mead (honey liquor) on the way back to the village.

Day 3 - Ice Cave hike
The day starts with a hearty, mountain breakfast before a short drive to nearby dairy farm. From here, you'll follow logging trails through the dense forest that offers welcome shade on a summer's day. On the way, keep an eye out for wild seasonal fruit – strawberries, raspberries and blackberries grow abundantly here.
The hike takes you to a cave, where locals used to harvest the ice for use in local dairy farms.

This tour takes around 5 to 6 hours and it finishes back at the farm. You'll enjoy another well-earned homemade lunch.

---
What's Included
Return transfers (from the Kotor Bay area)

All meals (3 breakfasts, 2 lunches, 1 x packed lunch and  2 dinners) Two-nights' accommodation 4 activities (3 hikes and the Piva Lake cruise) English speaking guided activities and return transfers
Local taxes and insurance
---
Who It's For
This break is perfect for:
Families with children over 16 years 
Couples 
Groups 
A long weekend break 
An addition to a week's holiday in Montenegro 
Part of a Balkan tour itinerary
---
Pricing
€325 per person 
Groups of 3+ adults and groups that wish to self-drive will qualify for a discount
There's a minimum of 2 people required for the hiking break
---
Book or Enquire About a Montenegro Hiking Break
This tour is meticulously arranged by Marko Vucinic, an outdoor adventure specialist in Montenegro. Marko is a UK registered and licensed tour operator. You can read reviews of Marko's tours on Tripadvisor here.

If you'd like to book a hiking break or you have any questions about the break, please feel free to send an enquiry to Marko. He's more than happy to answer any questions you might have.
---
All Short Break Montenegro holidays
Activity Break - 2 day rafting, hiking and lake cruise tour.
Adrenaline Break - 2 day rafting and canyoning tour.
Adrenaline Plus Break - 3 day rafting and canyoning tour.
Hiking Break - 3 day hiking tour.
Active Break - 3 day hiking, rafting and lake cruise tour.
Adventure Break - 3 day rafting, canyoning and hiking tour.
---
Book Your Trip With My Recommended Providers