Montenegro Pulse contains affiliate links and is a member of the Amazon Services LLC Associates Program. If you make a purchase using one of these links, I may receive compensation at no extra cost to you. See my disclaimer for more information.

3 Day Montenegro Adventure Break
This three day Montenegro adventure break takes you on two of Montenegro's most popular tours and to see some of Montenegro's undiscovered beauty.

The tour includes:
Rafting in the Tara Canyon and
Canyoning in the Nevidio Canyon
A scenic hike
The break will take you off the beaten path and into Montenegro's back country.

It's a beautifully wild area that really showcases the best of the north of Montenegro. This is the Montenegro you find when you head away from the touristy coast and the beaches.  
Click on any picture on this page to open the picture gallery.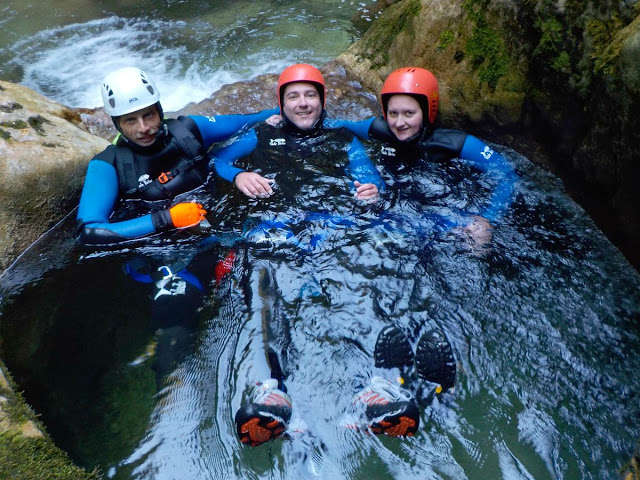 Canyoning in Nevidio Canyon
This is rugged Montenegro, the Montenegro that's an unpolished and hidden gem.

You'll also get to try the cuisine of northern Montenegro – a sadly underrated cuisine in my opinion!
Think slow-roasted meat that falls of the bone, roast potatoes, fresh salads, crusty  breads and tasty cheeses… makes me hungry just thinking about it!
During the break you have a full-board stay in traditional wood and stone cabins in an ethno-village overlooking Piva Lake. It's the perfect getaway. 
---
Montenegro Adventure Break Itinerary
Day 1 - Rafting the Tara Canyon
You'll be picked up from your accommodation and will drive to the rafting start point in Tara Canyon.
The Tara Canyon is the second deepest canyon in the world (after the Grand Canyon) and you'll see it in all its splendor - from your raft!
We love rafting in the Tara Canyon and usually do it every August when we start to get tired of going to the beach every day. 
Yep, I do know how that sounds! It's a hard life living in Montenegro ;-). You can read about our rafting adventures here.

Once you've been issued with your gear and had a safety briefing, it is time to load the rafts and take the short drive to the river.
During this thrilling tour, you'll experience about 2 1/2 hours of rafting on the best rapids of the Tara River. In between rapids you can float, paddle and soak in the scenery. You'll also stop for a visit to a waterfall and there are plenty of opportunities for photos and swimming.
Afterwards there's a short drive back to the rafting camp for a traditional lunch.
On the way to the ethno-village, where you'll spend the night,  you can stop at the Piva Lake Hydro Dam - the second tallest dam in Europe - and Piva Monastery.
Dinner is in a traditional local konoba (Montenegrin tavern) – yum! 
Day 2 -Piva Lake Ice Cave Hike
The day starts with a hearty, mountain breakfast before a short drive to nearby dairy farm. From here, you'll follow logging trails through the dense forest that offers welcome shade on a summer's day. On the way, keep an eye out for wild seasonal fruit – strawberries, raspberries and blackberries grow abundantly here.
The hike takes you to a cave, where locals used to harvest the ice for use in local dairy farms.

This tour takes around 5 to 6 hours and it finishes back at the farm. You'll enjoy another well-earned homemade lunch.

Day 3 - Canyoning in Nevidio Canyon
You'll take a scenic drive over the Durmitor Mountains to Nevidio Canyon. This is where your rafting tour begins. You'll be issued with all of your equipment like a wetsuit, booties and helmet. Then you'll have a safety briefing before you get started.
Then it's off into the canyon!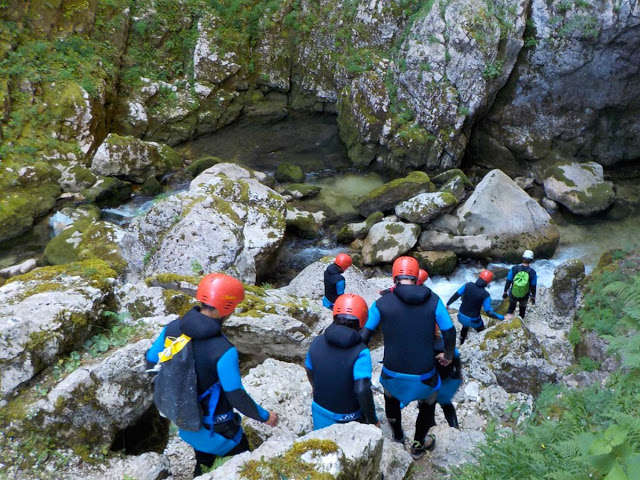 Descending into the canyon...now there's only one way out!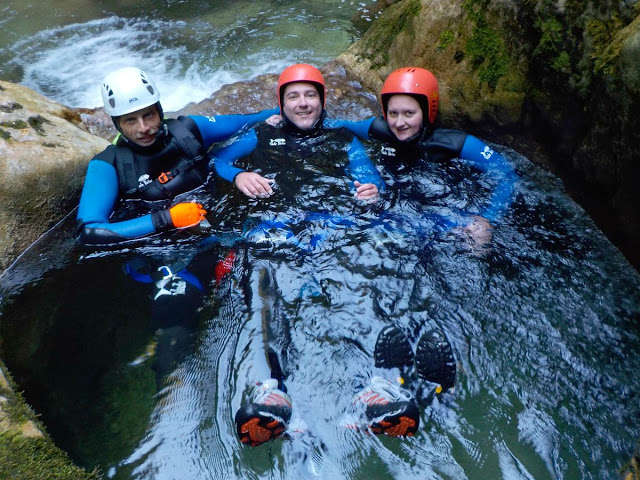 Enjoying a rest in a rock pool
For the next 3-4 hours you'll climb, hike, scramble and swim your way through the canyon. Some places are only half a metre wide and the canyon is up to 350m deep.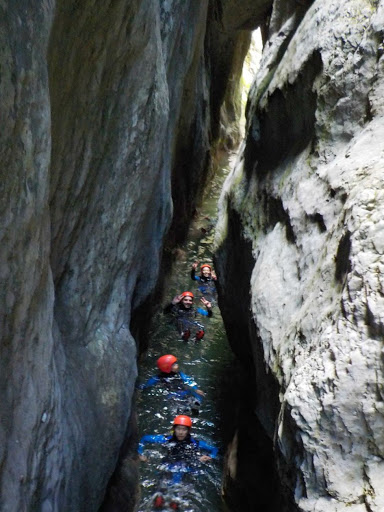 Going with the flow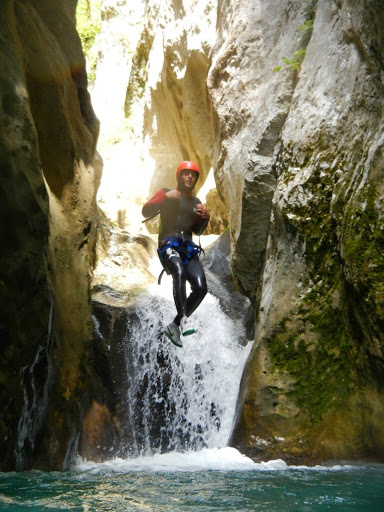 Jumping waterfalls - so much fun!!
After all that exertion, you'll be ready for a delicious lunch at a local restaurant!
After lunch, it's back down to the coast where you'll be dropped off in the Kotor Bay area.
If you want lasting memories of your adventures in Montenegro, we recommend the GoPro camera. We have a GoPro Hero 3 and we take it everywhere. 
It's waterproof, shock resistant and it comes with all sorts of attachments so that you can attach it to your equipment.
What's Included
Return transfers (from the Kotor Bay area)


All meals (3 breakfasts, 3 lunches, and  2 dinners)

Two-nights' accommodation

3 activities (rafting, hiking, canyoning)

Equipment for rafting and canyoning (raft, wetsuit, booties, life jacket, helmet and harness)

All transfers to activities

English speaking guided activities and return transfers

Local taxes and insurance
---
Who It's For
This break is perfect for:
Families with children over 16 years 

Couples 

Groups 

A long weekend break 

An addition to a week's holiday in Montenegro 

Part of a Balkan tour itinerary

People who aren't interested in a typical beach holiday and want to get off the beaten track.

People who love an adrenaline rush!
---
Pricing
From €435 per person.

Groups of 3+ adults and groups that wish to self-drive will qualify for a discount. Please send an enquiry using the form below for a quote.

There's a minimum of 2 people required for the break.
---
Book or Enquire About a
Montenegro adventure Break
This tour is meticulously arranged by Marko Vucinic, an outdoor adventure specialist in Montenegro. Marko is a UK registered and licensed tour operator. You can read reviews of Marko's tours on Tripadvisor here.

If you'd like to book this break or you have any questions about the break, please feel free to send an enquiry to Marko. He's more than happy to answer any questions you might have.
---
All Short Break Montenegro holidays
Activity Break - 2 day rafting, hiking and lake cruise tour.
Adrenaline Break - 2 day rafting and canyoning tour.
Adrenaline Plus Break - 3 day rafting and canyoning tour.
Hiking Break - 3 day hiking tour.
Active Break - 3 day hiking, rafting and lake cruise tour.
Adventure Break - 3 day rafting, canyoning and hiking tour.
Book Your Trip With My Recommended Providers