Montenegro Pulse contains affiliate links and is a member of the Amazon Services LLC Associates Program. If you make a purchase using one of these links, I may receive compensation at no extra cost to you. See my disclaimer for more information.

Top 8 Things to See and Do in Bar, Montenegro 2023
Bar is one of the least touristy towns on the Montenegrin coast - which makes it perfect for off-the-beaten-track exploring. 
Explore the ruins of the old town, visit one of the oldest olive trees in the world and sun worship on the beaches. And if you're a thrill-seeker, Bar is home to Montenegro's most challenging canyoning experience!
If you're staying in the Bay of Kotor or on the Budva Riviera, a drive down the coast to Bar and Ulcinj makes an excellent day trip.
---
Bar Attractions
Old Town Antivari
Bar old town. Image: Deposit Photos
The must-see attraction here is the old town which is 4km from the current town and coast. There have been settlements in this location since around 800 BC and the old town was built up over the centuries by the various rulers of the area. The old town was almost destroyed in fighting between Montenegrins and Turks in 1878 and then the large earthquake of 1979 further ruined what was left. This is was the point when the old town was abandoned and a new city was built on the sea.
Now you can visit the site of the old town which is being painstakingly reconstructed. It's a fascinating place, half rebuilt and half ruined, that you can explore on foot. At the entrance you'll get a map which will guide you around and tell you what the ruins used to be as you walk through. 
Hours: 8am - 10pm daily
Entrance: €2 adults, €1 children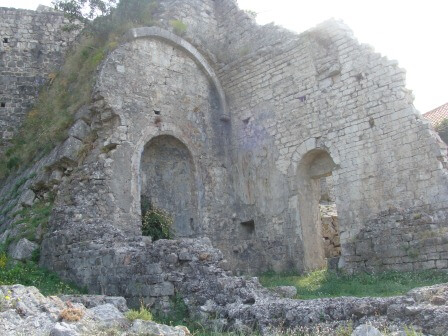 The cobbled street that leads to the old town is one of prettiest streets in Montenegro. It's a colourful mish-mash of restaurants and souvenir shops that showcases the Turkish influence that 300 years of Ottoman rule had on the area.
This is a great place to pick up a souvenir or stop for a Turkish coffee after you've explored the old town ruins.

The street leading up to the old town is full of character. Image: Deposit Photos
The Aqueduct
Image: Deposit photos
One of the most impressive features of the old town is the huge, stone arch bridge that crosses the valley. The bridge has 17 arches that are supported by 18 massive stone pillars.
The bridge is part of the aqueduct that was built by the Ottomans in the 16th century and it's the best preserved aqueduct in Montenegro. In fact, there are only three of these left in the former Yugoslav states - the others are in Croatia and Macedonia. 
The aqueduct brought water 3km from a spring in Mt Rumija and supplied the whole town. It was completely destroyed, along with the old town, in the earthquake of 1979 but has since been restored.
Stara Maslina - The Old Olive Tree
After the old town, this region is known for its olives. There are over 100,000 olive trees here!
Most trees are over a thousand years old and there's one particular olive tree that's a tourist attraction here. This tree is reported to be over 2,200 years old, the oldest tree in Europe and maybe even the world.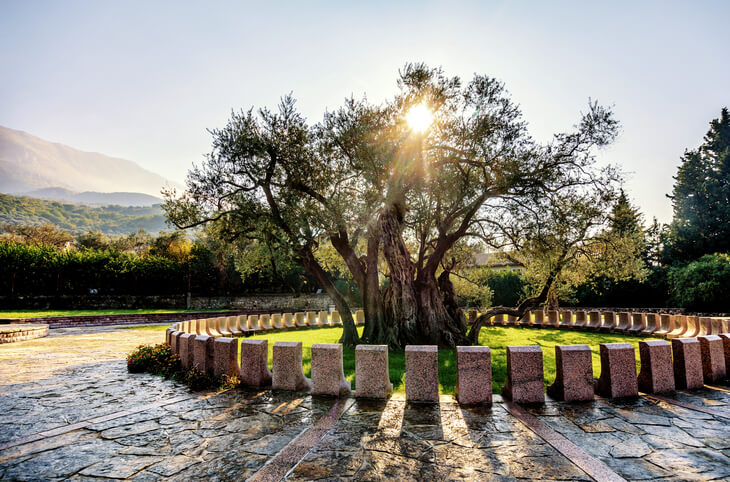 Stara Maslina - the oldest olive tree in Europe
Image: Deposit photos
On the road to the old town you'll see signs for 'Stara Maslina' or the 'old olive tree'. Follow these signs and you'll come to a walled area and gate around a giant olive tree. You can walk around the small park and buy small souvenirs made of olive wood.
Address: Mirovici bb
Hours: 8am - 9pm daily
Entrance: €1 adults, €0.50 children

Local's Tip: The perfect souvenir from Bar is a bottle of olive oil or a handmade bowl made from olive wood.
King Nikola's Palace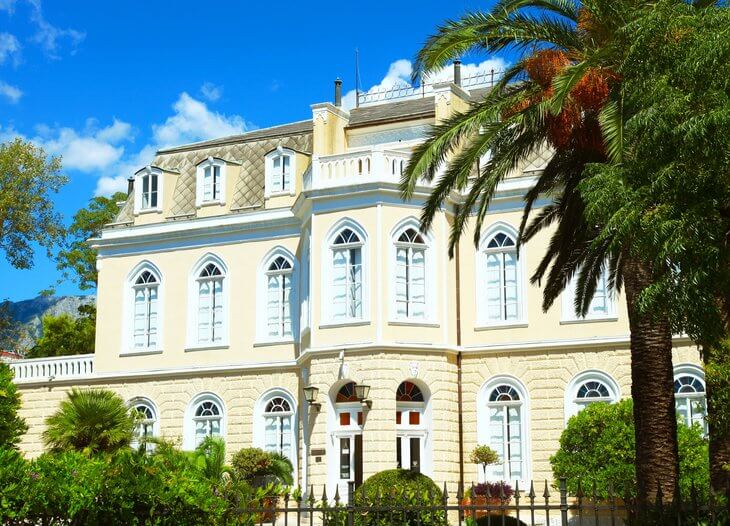 Image: Deposit photos
On the waterfront where the current town lies, you'll find King Nikola's Palace. It was built in 1885 as King Nikola gifted it to his daughter and son-in-law. It's now the town museum.
The museum holds more artifacts found in the ruins of the old town and the rooms have been reconstructed in 19th century style. There's a restaurant onsite in the old flower garden.
Address: Setaliste Kralje Nikole
Phone: +382 30 30 314 079
Hours: 8am - 2pm, 5pm - 11pm daily
Entrance: €1 adults, €0.50 children
Skadar lake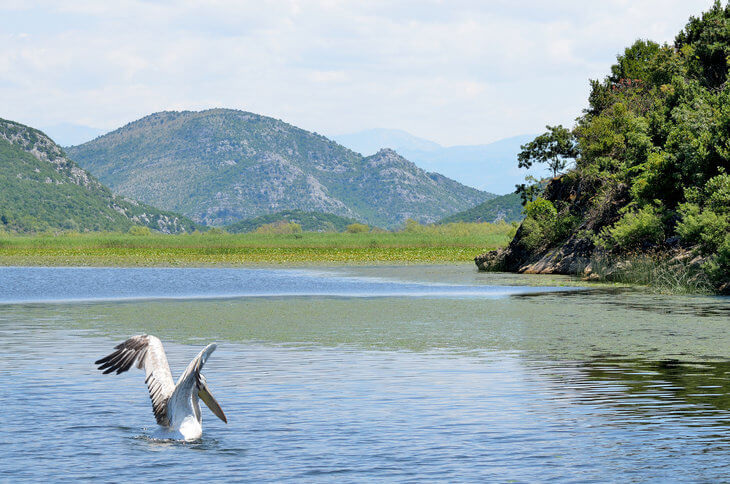 Image: Deposit photos
Skadar Lake is just 30 minutes from Bar and is a must-see in Montenegro. The National Park is a stunning wildlife reserve where you can see rare birds, take boat trips, go kayaking, biking and visit wineries. 
Read More: Things To Do At Skadar Lake >
---
Bar Activities
Medjurecje Canyon Tour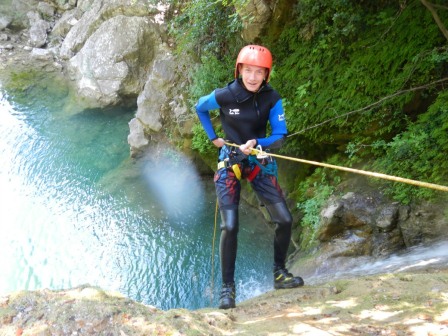 For those who want a real challenge and a full-on canyoning experience, the lesser known Medjurecje Canyon offers a canyoning experience that's not for the faint of heart. 
Located near Bar, on the southern coast of Montenegro, this canyon is one of the most remote in the country. In addition to hiking and swimming through the canyon, you'll abseil, jump and slide your way through the canyon.
Tour Details
Start point: Bar. Return transfers from your accommodation are available on request
Start time: 9am
Duration: 6 hours 
What's included: Guided canyoning tour, all canyoning equipment, transfers from Bar, snacks
Age limit: 16 years and over, under 18's must be accompanied by an adult
Price: €115 per person (minimum of 2 required)
---
Bar Beaches
Just like all of coastal Montenegro, life revolves around the beach in summer and Bar is no exception. If you're looking for a spot to cool off the city beach is right in front of the town. The town beach is right next to the busy port though, so there are lots of boats and even large ships passing close by.

If you don't mind jumping in the car, you can explore some of the beaches along the coast. 

But first, a word about the beaches...
In the Balkans people like to paaaaar-tay! And that includes on the beach (and on a boat, and at dinner parties and camping and pretty much any group gathering you can think of). So thumping music (Balkan folk-pop preferably) is a must at the most popular beaches. 
Since this part of the coast is more popular with Balkan tourists than foreign tourists, the beaches still cater to local preferences more than foreign. If you're in search of a quiet oasis,  you'll need to pick your beach carefully.
Sutomore
Sutomore, just north of town, is a large stretch where you'll find a large beach where you can hire loungers, umbrellas and cafes. Although it's very popular with locals, foreigners can find the loud music and rubbish a problem. 
You can hire two loungers and a sun umbrella for €10.
If you're looking for a quieter location, try the smaller beaches of Canj to the north or Dobra Voda and Utjeha to the south.
---
Bar Map
If you're exploring Bar's attractions on your own, or you're staying in Bar, you'll need  a map to help you find your way around. Although town centre is compact, it's main attractions are spread around and you'll need to get around by car.
Luckily, there's a way to get a free map of Bar on your phone or tablet, using Google Maps. And you can use it even when you're offline.

Related Articles
Book Your Trip With My Recommended Providers
Best Things to Do in Bar, Montenegro