Discover Montenegro's Beauty and Culture in the National Parks of Montenegro 
(This post may contain affiliate links. Find more info in my disclaimer.)
The national parks of Montenegro are the perfect places to see Montenegro's famed 'wild beauty' and get a taste of authentic local culture. Find out about all five nationals parks and decide which ones you should visit on your trip.
Montenegro is famous for its 'wild beauty' and while it seems like postcard-worthy views are around almost every corner, the national parks are spectacular.
Watch this to see what I mean.
It's no wonder Montenegro's known for being so beautiful; fully 10% of the country is made of national parks.
There are five in total:

I'd highly recommend visiting at least one of the national parks of Montenegro during your visit. They're beautiful places and they have plenty to see and do. You'll find walks, hikes, zip lines, boat trips, kayaking, cycling and authentic local cuisine.
Lovcen and Skadar Lake are the easiest to get to if you're staying on the coast. Lovcen is just an hour from Kotor and Skadar Lake is a 45 minute drive from Budva or Bar. 
Durmitor and Biogradska Gora are great for overnight stays in the mountains. They've both got small towns with nice accommodation, restaurants and walks. During the winter these are Montenegro's main ski fields. 
The final national park, Prokletije, is much more remote and draws serious mountaineers from around the world. 
Let's explore the national parks of Montenegro!

Durmitor National Park
Durmitor is the largest of the national parks of Montenegro and lies in the north east of the country.
It's one of the most-visited national parks because it's so beautiful and easy to get to.
It's beautiful, easy to get to, there are lots of things to see and do and there are good accommodation options.
If you'd like to visit this area, the best place to head to is Zabljak. Zabljak is a small town of about 2,000 people. It's the gateway to Durmitor and you'll find plenty of hotels and restaurants.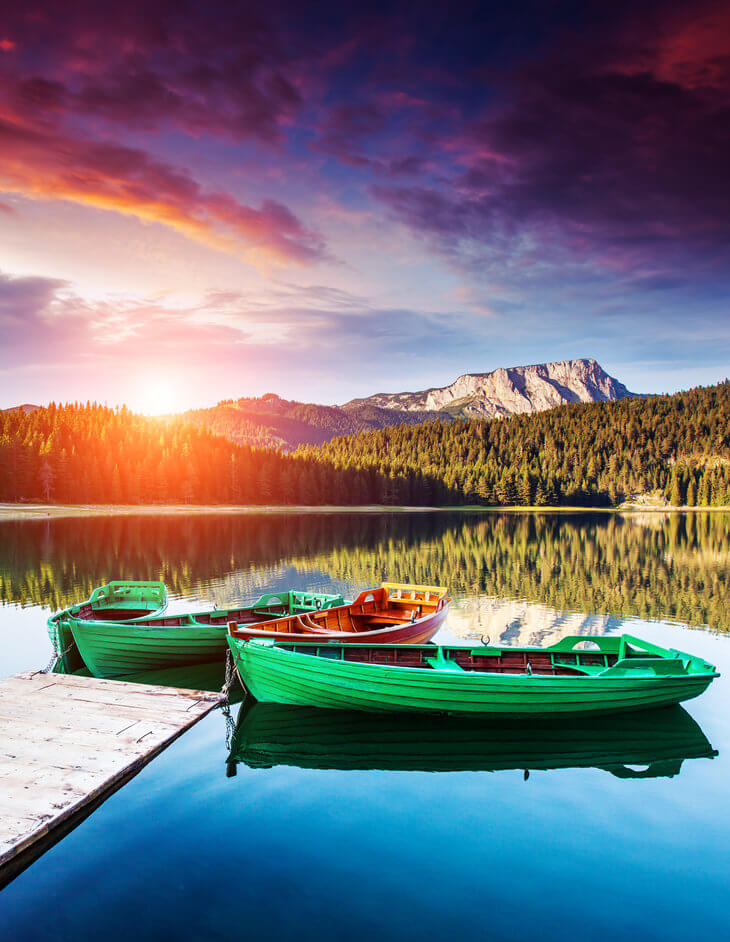 The Black Lake, Durmitor National Park
Image: Deposit photos
---
Biogradska Gora National Park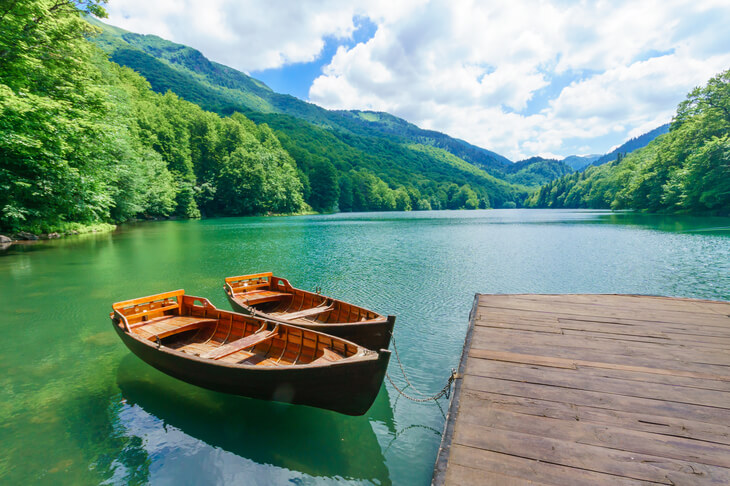 Lake Biograd, the heart of Biogradska Gora National Park
Biogradska Gora National park lies in the north east of Montenegro. It's the smallest of the national parks of Montenegro, but it's so important because it's one of only three remaining virgin forests left in Europe and trees in the park are up to 400 years old.
There are lots of reasons to plan a visit to Biogradska Gora. It's a great place for families, with an open-air noddy train ride and boats that you can hire to row around the lake. 
It's an outdoor and nature lover's paradise too. There are lots of hiking and biking trails, horse-riding and jeep safari tours you can take through the park. 
Or if you just want to kick back and do some light sightseeing and spend lots of time relaxing in a Jacuzzi and getting massages, Biogradska Gora is the perfect mountain retreat to relax. You'll find excellent hotels in nearby Kolasin and no crowds.
---
Lovcen National Park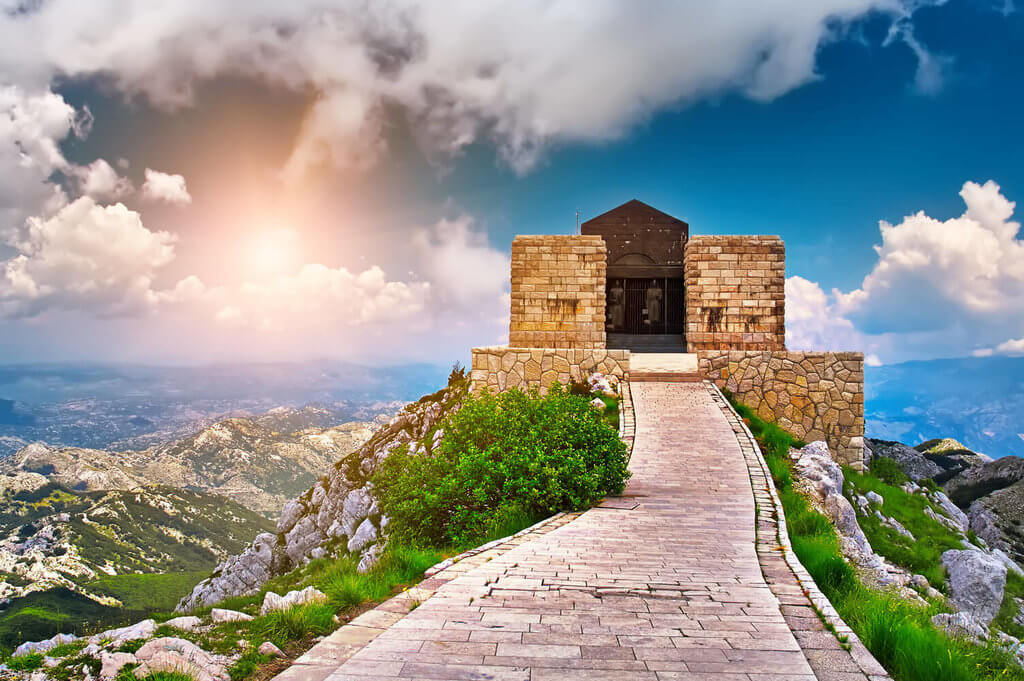 Petar Petrovic-Njegos mausoleum in Lovcen National Park
Lovcen is one of the most popular national parks of Montenegro. It lies between Kotor, Cetinje and Budva and is an easy day trip from anywhere on the coast.
The route via the serpentine road up from Kotor has got to be one of the most scenic in the country and will give you stunning views of the Bay of Kotor all the way up. It does have 25 hairpin turns, so you'll want to take it a bit easy… but this probably won't be a problem as you'll be wanting to stop so often to take photos of the view! 
On the way you'll be able to stop in the village of Njegusi to try some famed Njegusi prosciutto and Njegusi cheese.

---
Skadar Lake National Park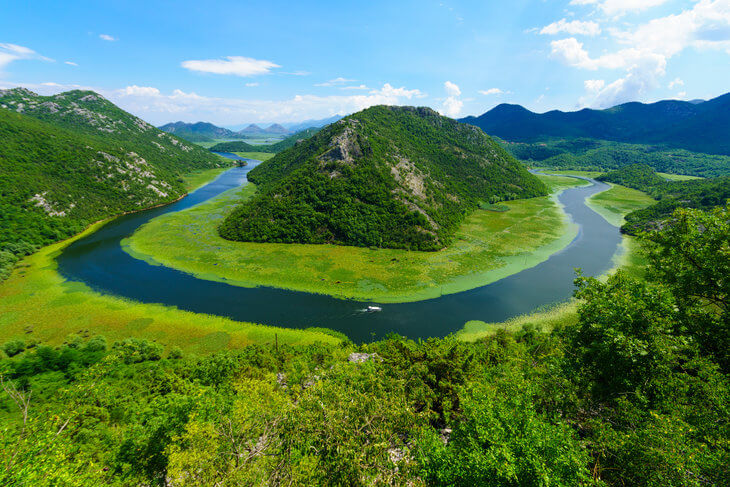 Pavlova Strana on the Crnojevic River in Skadar Lake National Park
Skadar Lake is one of the largest lakes in Europe and creates the border between Montenegro and Albania. It's easily reached in a day trip from anywhere along the Montenegrin coast and is one of the most interesting national parks of Montenegro.
There are two main places where you can access the lake – Virpazar and Rijeka Crnojevica. Both places are culturally significant and while there you'll see a number of churches and ruins from the past. Most of the archaeological pieces that have been dug up around the lake have been placed on exhibit in either Podogorica or Bar museum.
---
The parks are all managed by National Parks of Montenegro and in each you'll find a visitor's centre which will be able to offer local information. This is especially useful if you're planning to do some hiking outside of the summer months, when the conditions can be quite variable.
---
Prokletije National Park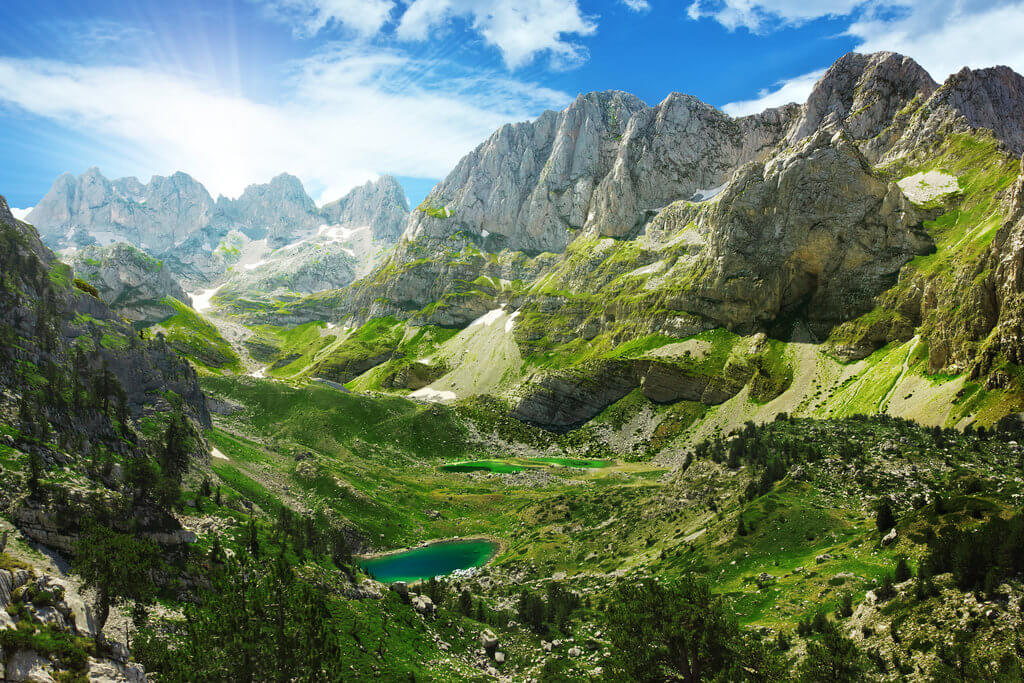 Prokletije Mountains
Prokletije is the newest national park of Montenegro. It's home to the highest peak in Montenegro, Maja Kolata, which beats Bobotov Kuk in Durmitor by just 5m. The name Prokletije actually means 'accursed mountains' and the range lies on the border with Albania in the south east. 
---
You can camp inside any of the national parks of Montenegro in a tent or caravan. The caravan parks are well equipped with electricity and fresh water connections as well as wastewater tanks. The parks also have bungalows available and huts on many of the hiking trails.
---
Related Articles
The Coast of Montenegro
The Mountains of Montenegro
Things to Do in Montenegro
National Parks of Montenegro
help the stray animals of Montenegro
Book your accommodation anywhere in the world through any of the search boxes on our site and we'll make a donation towards sterilising stray animals in Montenegro. 
It costs you nothing, and you get the biggest selection and lowest prices guaranteed. It's a win-win!