The National Parks of Montenegro
(This post may contain affiliate links. Find more info in my disclaimer.)
The National Parks of Montenegro
The national parks of Montenegro make up about 10% of the total land area of the country and there are five in total:
I'd highly recommend visiting at least one of the national parks of Montenegro during your visit. They're beautiful places and they have plenty to see and do like walks, hikes, ziplines, boat trips, kayaking and cycling.
Lovcen and Skadar Lake are the easiest to get to if you're staying on the coast. Lovcen is just an hour from Kotor and Skadar Lake is a 45 minute drive from Budva or Bar. 
Durmitor and Biogradska Gora are great for overnight stays in the mountains. They've both got small towns with nice accommodation, restaurants and walks. During the winter these are Montenegro's main skifields. 
The final national park, Prokletije, is much more remote and has some impressive hiking trails. 
Let's explore!

Durmitor National Park
Durmitor is the largest of the national parks of Montenegro and lies in the north east of the country.
If you want to plan a mountain stay into your trip to Montenegro, this is the best place to visit.
It's beautiful, easy to get to, there are lots of things to see and do and there are good accommodation options.
If you'd like to visit this area, the best place to head to is Zabljak. Zabljak is a small town of about 2,000 people. It's the gateway to Durmitor and you'll find plenty of hotels and restaurants. 
Read More: Zabljak
Read More: Durmitor National Park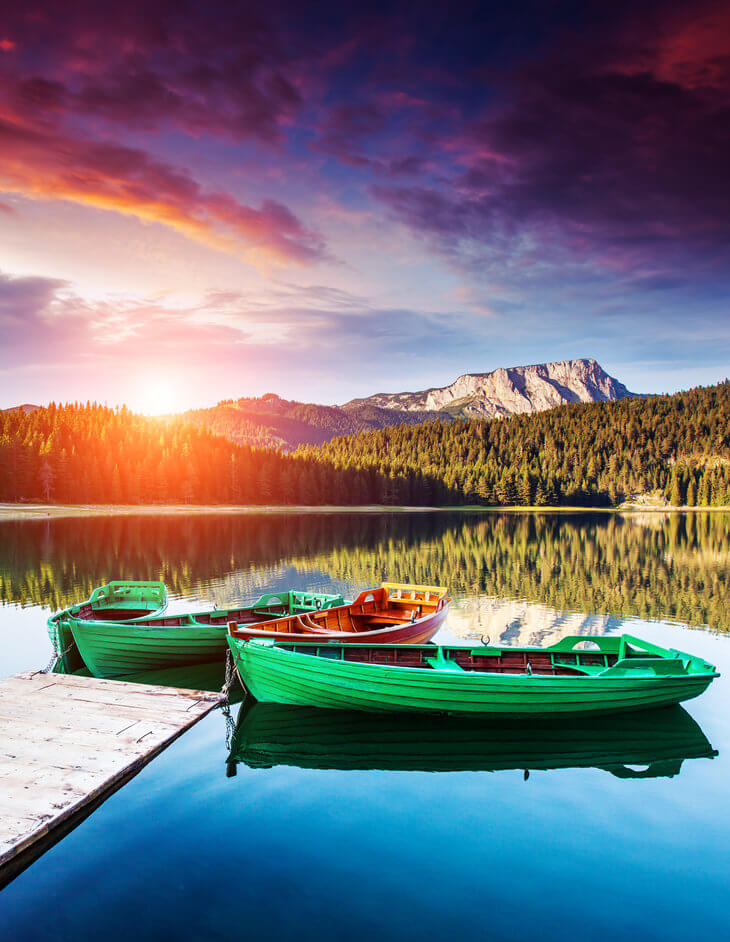 The Black Lake, Durmitor National Park
Image: Deposit photos
---
Top Things To Do
Rafting
Rafting in the Tara Canyon is the most popular activity in Montenegro. Tours go all summer and it's lots of fun for families. If you go in July or August, the rapids are mild and kids as young as 8 can go. 
The trip is easy and scenic and you can do it either as a day trip or overnight nearby. We do this in a day trip every summer.
Read More: Rafting in Montenegro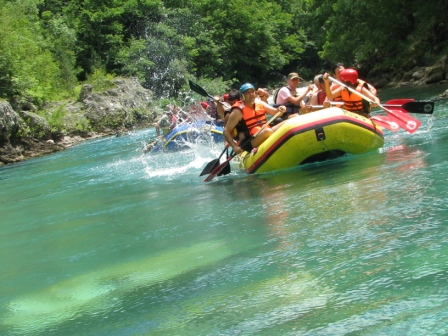 Rafting in the Tara Canyon
Canyoning
Just outside of Durmitor you'll find Nevidio Canyon, the most popular canyoning spot in Montenegro. Tours run all season and it's the perfect activity for thrill-seekers. You swim, jump, climb and abseil through the canyon. 
Read More: Canyoning in Montenegro
Hiking
Durmitor is the most visited mountain area in Montenegro and is home to Montenegro's second highest peak – Bobotov Kuk at 2,525m. This hike is marked and you can take it from Zabljak, however it is for experienced and fit hikers. The four most popular hikes here all start from Crno Jezero (Black Lake) in Zabljak and vary in time and difficulty.
There's an easy 4km scenic walk around Black Lake. There's just one part with stairs that would be difficult for anyone with impaired mobility.
For detailed information about the hiking options available when you want to visit, you can contact the visitor's centre at npdurmitor@nparkovi.me. You can also go to the visitor's centre which is located near the entrance to Black Lake.
If you're interested in hiking in any of the national parks of Montenegro I recommend getting a copy of The Mountains of Montenegro by Rudolf Abraham. This small book has covered the majority of the hiking in Montenegro and offers invaluable advice and details routes for both day hikes and longer hikes.
Fishing
Trout fishing is allowed in three places in Durmitor from 1st May to 1st October each year. There are specific places you can fish on particular days and at particular times. If you would like to go fishing contact the visitor's centre to confirm the details. The three places you can fish are the Tara River, Crno Jezero and Vraziji Jezero.
Boating
If rafting is not your thing, you can take a more sedate boat ride on Crno Jezero in Zabljak. There are boats available for hire on the lake for €8 per hour.
Boats for hire on Black Lake
Biking
Why not enjoy some of the Montenegrin fresh air and explore the area by bike?  The visitor's centre rents them for €2 an hour or €7 per day.
Skiing
Durmitor is one of two national parks of Montenegro with a ski field, which is based in Zabljak. This is why Zabljak is so popular all year around. The ski season starts in December and goes through to April. It's a relatively small resort with two chairlifts and three rope tows.
Zipline
There is a zipline across Tara Canyon at the Tara Djurdjevica Bridge. It costs €10 per person and it's open from 10am to 8pm daily.
---
Biogradska Gora National Park
Biogradska Gora National Park
Biogradska Gora is the smallest of the national parks of Montenegro and is located in the north east of the country. Kolasin is nearby and the best place to stay if you're wanting to stay in this area. The park has a visitor's centre on Lake Biograd, which is about 20km outside of Kolasin, in the national park. 
---
Top Things To Do
Hiking
There's a nice, easy walk around the lake which takes about an hour.
You'll also find more difficult trails available if you're looking for something more challenging.
The trails average 12km each and there are various trails which can take up to six days to complete.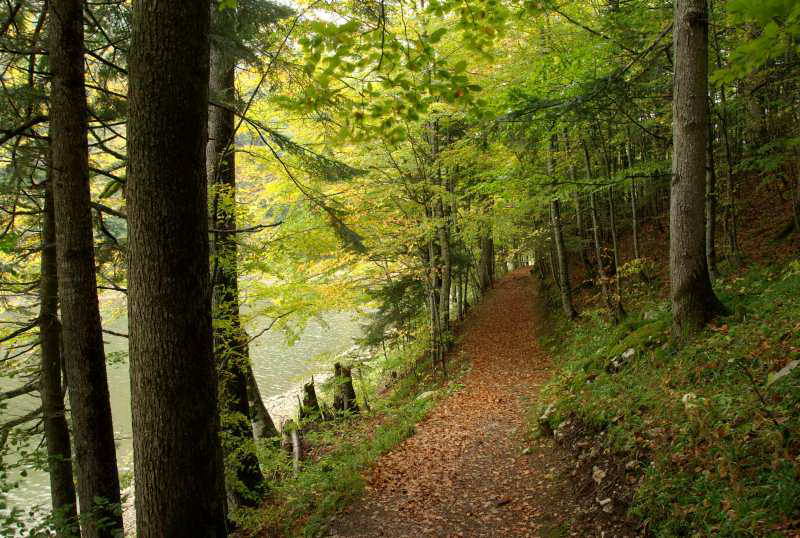 Biogradska Gora trail around the lake
The visitor's centre is the best place to start to get information on walks. You can can contact them on npbiogradskagora@nparkovi.me
Boating
You can rent a boat on Lake Biograd for €8 an hour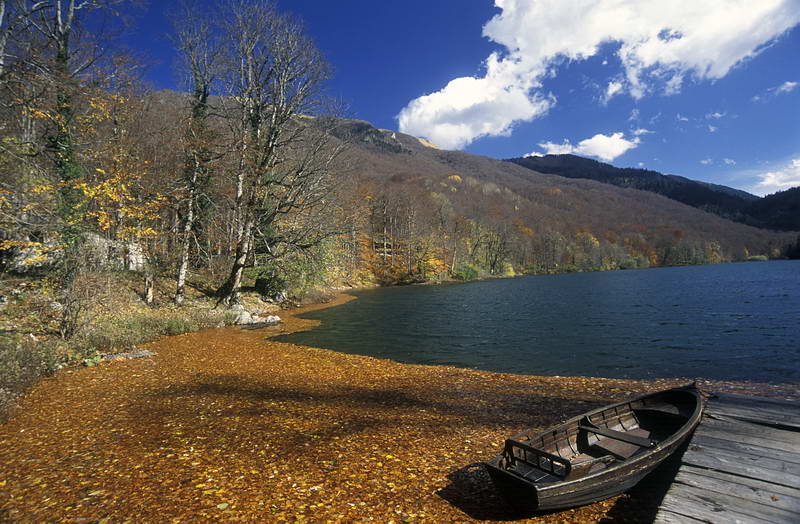 Biogradska Gora National Park is a great place to escape the summer heat and crowds
Skiing
Biogradska Gora is the other of two national parks of Montenegro with a skifield. Kolasin is Montenegro's most popular ski resort in winter and is well equipped with accommodation and restaurants. There are six lifts in total including the baby lift.
Eating and Drinking
One of the highlights of heading into the mountains and national parks of Montenegro is the food.
Kolasin is a great place to try some hearty, Montenegrin mountain food such as pasulj (beans), sarma (mince and rice stuffed cabbage or vine leaves) or lamb cooked in milk.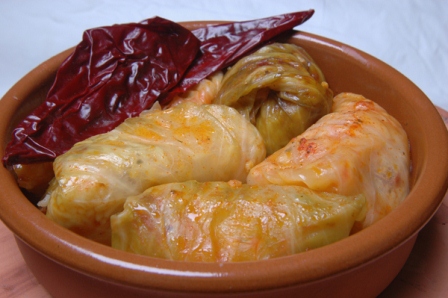 My favourite - sarma
---
Lovcen National Park
Lovcen is one of the most popular national parks of Montenegro. It lies between Kotor, Cetinje and Budva and is an easy day trip from anywhere on the coast.
The route via the serpentine road up from Kotor has got to be one of the most scenic in the country and will give you stunning views of the Bay of Kotor all the way up. It does have 25 hairpin turns, so you'll want to take it a bit easy… but this probably won't be a problem as you'll be wanting to stop so often to take photos of the view! 
On the way you'll be able to stop in the village of Njegusi to try some famed Njegusi prosciutto and Njegusi cheese.

You'll see signs all over Njegusi where you try proscuitto, brandies, honey and cheese
---
Top Things To Do
Petar Petrovic Njegos' Mausoleum
Lovcen is best known for housing the mausoleum of Montenegro's favourite son, the poet, bishop and leader Petar Petrovic Njegos. You can visit the mausoleum via a long staircase of 461 steps and you'll also be rewarded here with 360 views of the surrounding mountains for your efforts. You can also head over to Erakovici and visit the museum which is in the house Njegos was born in.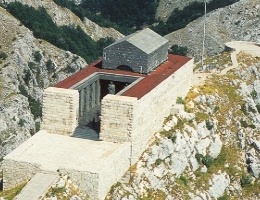 Lovcen Mausoleum
Hiking
There's a visitor's centre in the park where you can get information and pick up maps for walking trails. You'll need to keep in mind that there is generally snow up here from November to April and temperatures can be substantially cooler than down at sea level.
You can hire a guide from the visitor's centre if you want to do a guided walk. To do this you'll need to book in advance and you can contact them at nplovcen@nparkovi.me.
Ivanova Korita
Ivanova Korita is a great spot for lunch, a picnic or a game. There are restaurants and a hotel as well as bungalows and a large field ideal for picnics and children. You'll also find a ropes course here that has difficulty levels for everyone.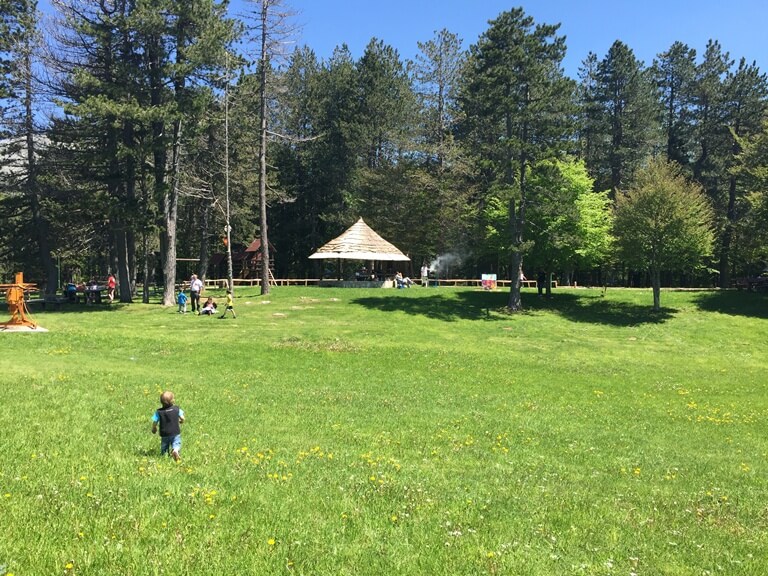 Ivanova Korita is a fantastic place for kids and family picnics
Konak restaurant at Ivanova Korita - enjoy the sun and excellent food
Biking
You can hire bikes from the visitor's centre for €2 an hour or €7 per day and explore the trails and park this way.
A short video from our trip to Lovcen
---
Skadar Lake National Park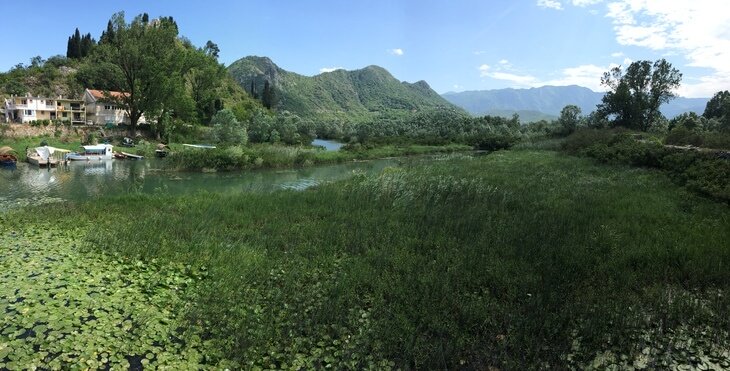 Virpazar, the best place to go on Skadar Lake
Skadar Lake is one of the largest lakes in Europe and creates the border between Montenegro and Albania. It's easily reached in a day trip from anywhere along the Montenegrin coast and is one of the most interesting national parks of Montenegro.
There are two main places where you can access the lake – Virpazar and Rijeka Crnojevica. Both places are culturally significant and while there you'll see a number of churches and ruins from the past. Most of the archaeological pieces that have been dug up around the lake have been placed on exhibit in either Podogorica or Bar museum.
Read More: The Ultimate Guide to Lake Skadar
---
Top Things To Do
There's a lot to do around Lake Skadar and it's one of the most beautiful places in Montenegro. You can find a full list of things to do in the area here.
Visitor's Centre

If going to Virpazar, I highly recommend a trip to the visitor's centre in Vranjina. The museum has exhibits showing traditional ways of life in this area and a lot of information about the native flora and fauna around the lake. Entry to the museum here is included with your park entry which costs €4.
Hiking
There are 11 walking trails around the lake and you can pick up a map at the visitor's centre or contact them on npsj@npskadarlake.org for information.

You can also book a guided walk that will show you the best the area has to offer.
Read More: Hiking at Lake Skadar
Cycling
There are five marked bike trails available around the lake:
Rijeka Crnojevica – Virpazar – Cikla: 65km

Rijeka Crnojevica – Karuc: 9.5km

Virpazar – Crmnicko Polje – Virpazar: 17.5km

Virpazar – Limljani – Boljevici – Virpazar: 20km

Virpazar – Sutorman – Bar: 34km
There are also two mountain bike trails:

Dodosi – Zabljak Crnojevica: 10km (available from spring to autumn only)

Virpazar – Orahovstica
Read More: Biking at Lake Skadar
Boat Trips and Kayaking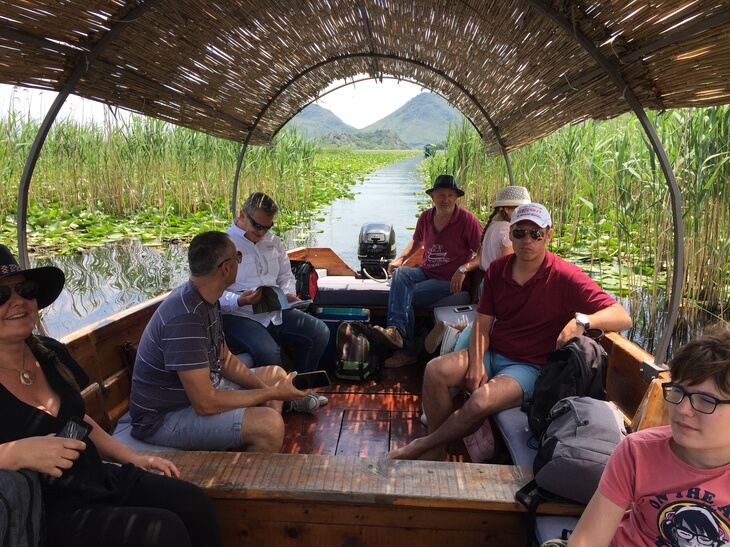 You can take boat trips from both Rijeka Crnojevica and Virpazar – something we highly recommend doing.
The lake is full of wildlife and birds and you can book your own tour with an English-speaking skipper here. They'll take you to see the highlights of the lake including monasteries and fishing villages that can only be accessed by boat.
There are also guided kayak tours and kayak rentals available from Virpazar.
The kayak tours will take you to hidden beaches, monasteries and bird-watching. It's a great way to spend a day exploring the lake.
Read More: Lake Skadar Boat Cruises
Read More: Lake Skadar Kayaking
Fishing
Fishing is permitted on the lake from 1st June to 15th March. You need to buy a licence from the visitor's centre though which costs €5 per day.
Bird Watching
Dalmatian Pelicans on Lake Skadar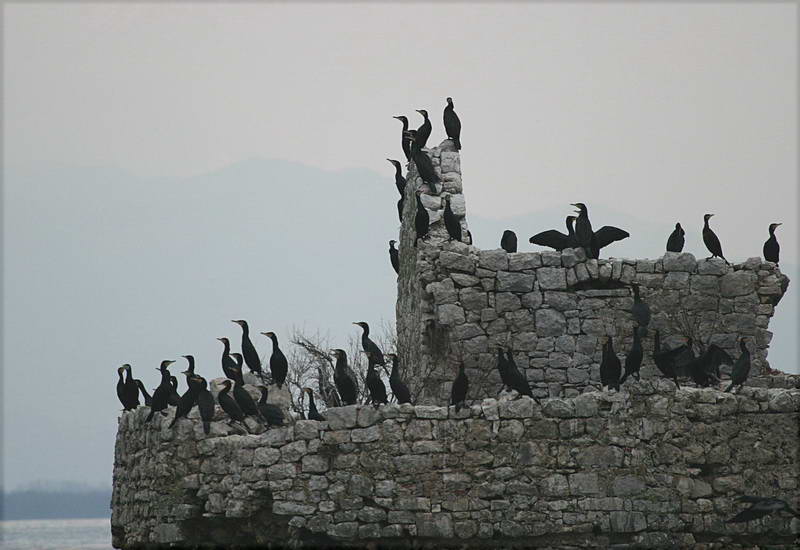 Grmozur Island is a haven for birds
Lake Skadar is one of the most special national parks of Montenegro because of the abundance of birds living on and around the lake. Bird watching enthusiasts will be delighted with the variety here. It's well known for its diverse birdlife and depending on the time of year (autumn and winter are best for migratory birds), you'll see pelicans, cormorants, terns, herons and kingfishers among others. You can see the birds by hiring a boat to take you out on the lake or by hiring a guide to take you into the ornithological reserve. 
Read More: Lake Skadar Bird Watching
Read More: Bird Watching Holidays in Montenegro
Eating and Drinking
Of course, in the national parks of Montenegro, eating and drinking feature as part of the national heritage and visitors must partake of the local specialties.
There are plenty of restaurants on the lake, the most well known of which is Jezero just across the bridge from Virpazar. This is also where the visitor's centre is. The thing to try at any of these is local carp (unfortunately known as 'krap' in Montenegrin). On the other side of the car park you'll find a wine shop so you can pick up a bottle of local wine to take home with you.
We also recommend booking a specialist wine and gastronomy tour. On these tours you'll get to try local, organic home-style cooking and local wines from boutique wineries that will only be outdone by the warm, Montenegrin hospitality you'll be welcomed with.
Read More: Lake Skadar Wine Tastings and Gastronomy Tours
The parks are all managed by National Parks of Montenegro and in each you'll find a visitor's centre which will be able to offer local information. This is especially useful if you're planning to do some hiking outside of the summer months, when the conditions can be quite variable.
---
Prokletije National Park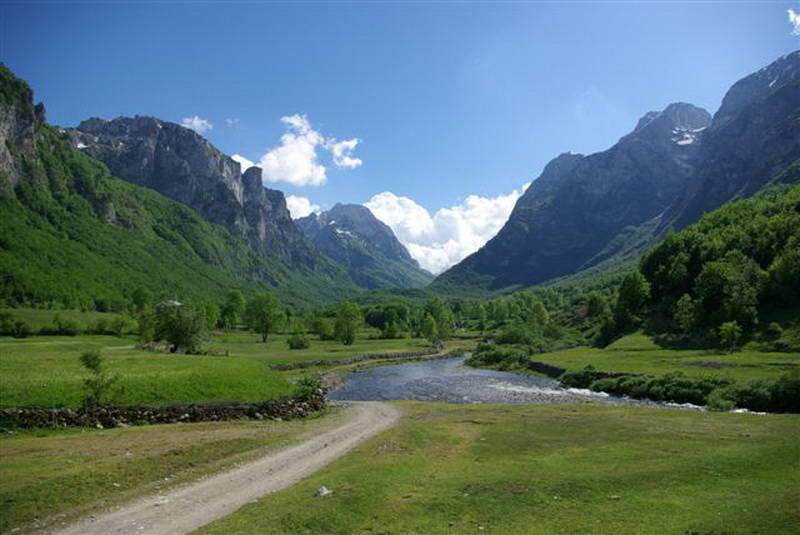 Prokletije is the newest national park of Montenegro. It's home to the highest peak in Montenegro, Maja Kolata, which beats Bobotov Kuk in Durmitor by just 5m. The name Prokletije actually means 'accursed mountains' and the range lies on the border with Albania in the south east. 
---
Top Things To Do
Hiking
Prokletije has perhaps the most impressive scenic hikes of all the national park of Montenegro, however they're not always well marked and I recommend taking a guide if you wish to hike here. You can hire a guide from the mountaineering society in Plav and contact them on pskhrid@t-com.me. This area can also be covered with snow even in summer, so it's really only for the experienced and well-equipped. The visitor's centre in the park will also be able to offer advice on hikes and give you maps.
Cultural Sights
The town closest to the national park is Plav and there are three interesting sights here.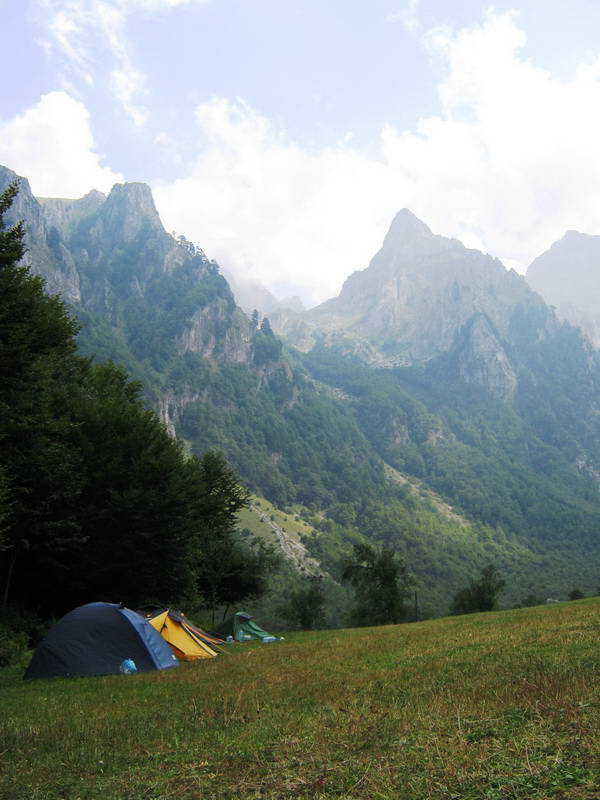 Lake Plav
Lake Plav is a popular swimming spot for locals and you can also hire kayaks and paddle boats on the lake.
You can camp inside any of the national parks of Montenegro in a tent or caravan. The caravan parks are well equipped with electricity and fresh water connections as well as wastewater tanks. The parks also have bungalows available and huts on many of the hiking trails.
The national parks of Montenegro offer an interesting mix of scenic beauty, activities and cultural heritage. Durmitor, Lovcen and Skadar Lake are all easily reachable in day trips if you're staying on the coast.
---
Related Articles
The Coast of Montenegro
The Mountains of Montenegro
Things to Do in Montenegro
---
Home

>
Where is Montenegro
> National Parks of Montenegro
---
help the stray animals of Montenegro
Book your accommodation anywhere in the world through any of the search boxes on our site and we'll make a donation towards sterilising stray animals in Montenegro. 
It costs you nothing, and you get the biggest selection and lowest prices guaranteed. It's a win-win!