Kotor: the Ultimate Tourist Guide to Montenegro's Must-See Destination

(This post may contain affiliate links. Find more info in my disclaimer.)
No visit to Montenegro is complete without a trip to Kotor old town. The town is UNESCO Heritage protected for good reason and is definitely a must-see during your stay.
Here's the low down on what you should do and what you need to know while you're there.
---
Kotor is an ancient, fortified town that was first mentioned in 168 BC. It was settled by the Ancient Romans and called Acruvium. 
Emperor Justinian fortified the town in 535, but four hundred years of Venetian rule from 1420 to 1797 have really shaped the town. The architecture is distinctly Venetian and it's one of the most well-preserved medieval old towns on the Adriatic.
Today, Kotor is Montenegro's must-see destination. Cruise ships arrive daily between April and November and the cobbled streets are alive with tourists and locals alike. 
But step off the main streets and into the hidden alleyways and you'll find the ruins of an ancient prison and the laundry of families who've lived here for generations swaying in the breeze. You'll see that far from being a town where the locals left when the tourists arrive *ahem Dubrovnik*, Kotor has managed to strike the balance. Locals still live there, still do business and most importantly, still come for coffee in town every day. Kotor is a living and breathing town, with soul. And that's why I guarantee you'll fall in love with it, just like we (and every other visitor) did. 
---
Kotor Old Town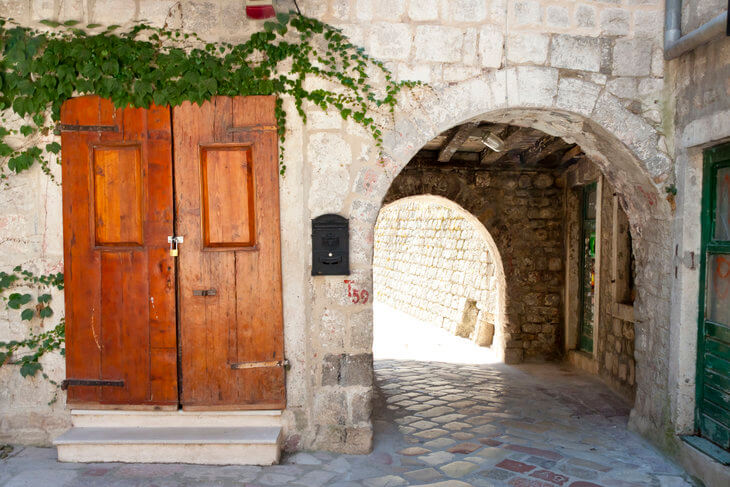 The old town's charm is effortless
Image: Deposit photos
It's so easy to just get lost in Kotor's rabbit-warren of alleys. A wander through the cobblestone streets will have your head swivelling from side to side trying to take in the rustic beauty of this ancient town.
The town itself is a combination of restaurants, shops, apartments and ruins that just run into each other. The town was actually completely ruined in an earthquake in 1979 and while most of it was rebuilt, some parts have just been left to languish which makes it rather pretty more than anything else.
While exploring, you'll find dozens of interesting nooks and crannies that showcase a photo opportunity or an interesting piece of history. Don't worry, the old town is so small, it's impossible to get lost for long.
The Best Kotor Walking Tours
To get the best of Kotor, I encourage all visitors to take a walking tour of the town. 
You can grab a map of the town, which shows you where the historic buildings are which year they were built. But you won't get any more information about the history and significance of Kotor without doing a guided walking tour.
The tours take just an hour and are well worth doing. You'll get insight beyond Kotor's surface beauty find out why this tiny town is so significant. I'll give you fair warning though, you might just leave a little piece of your heart in Kotor!
Like all good locals, I have the inside scoop on the best walking tours in Kotor. As a Montenegro Pulse reader you'll get a generous discount too! Click here for more info. 
Until the end of WWI, Kotor was officially called Cattaro - the Italian name for Kotor. After it became part of the Kingdom of Yugoslavia it was christened Kotor.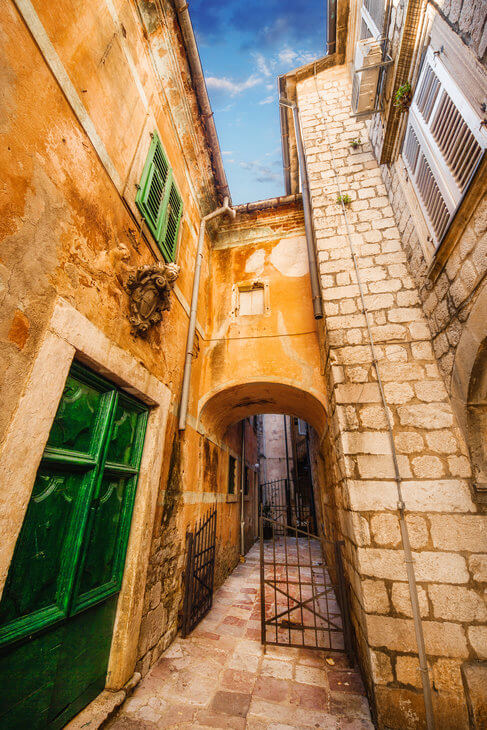 The old town alleys offer non-stop picture opportunities
Image: Deposit photos
And if you do get lost, you can always plop yourself down at a café and get a coffee and a slice of 'krempita' or cream pie.
Local's Tip: Head over to Letrika to try a unique coffee experience in Kotor. A red-hot piece of charcoal is put into a cup of Turkish coffee right in front of you. The charcoal makes the coffee smoother and purifies it. Charcoal is well-known for its purification properties and you can either leave it in while you drink your coffee or take it out.
This is the way to turn a just another coffee into an authentic experience!
To find Letrika, grab a town map at the info centre at the entrance and head over to #26, St Ana's Church. You'll find it in the corner there.
Letrika is also a funky and super-popular bar at night, especially with the hostelling crowd.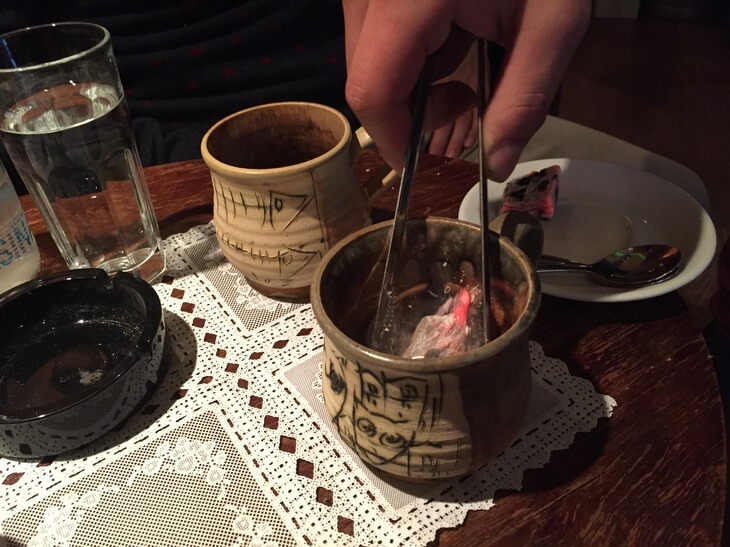 When you visit it, you see that locals still live there, still shop there, and most importantly in Montenegro, still have coffee there. 
Although Kotor's become very popular in the last couple of years, it's not been overrun with tourists like neighbouring Dubrovnik. Local's still come here, live here and do business here, which means you still feel that it's an authentic, Montenegrin town.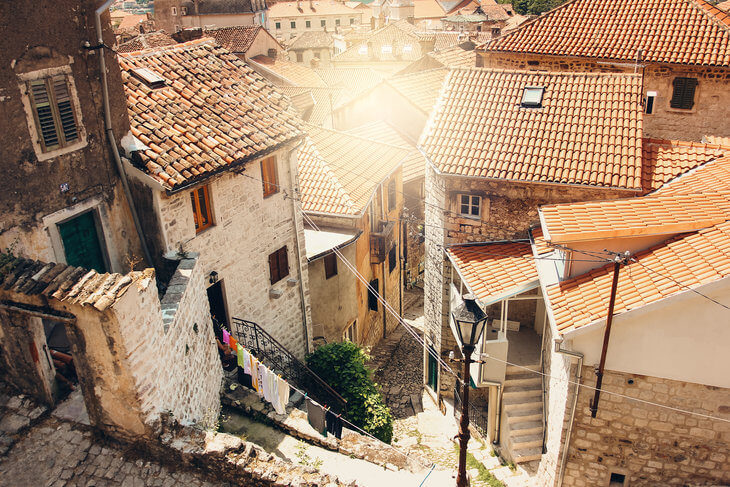 Follow narrow alleyways to discover local nooks and crannies... and get that beautiful shot!
Image: Deposit photos
A few Local's Tips
Stop at the information kiosk in front of the main gate/sea gate opposite the marina and get a map of the old town. Historic buildings and palaces are not always well marked, but they're marked on the map. It will also make navigating the alleyways much easier!
If you're staying in one of the old town's boutique hotels, do take good note of where your hotel is. We've seen many a tourist wander back and forth in search of their hotel. 
And a word to the ladies - I recommend forgoing heels here and wearing sensible footwear for navigating the slippery, cobbled streets.
---
Discover Kotor
Want to see some stunning videos of Kotor? See the best Kotor videos from around the net on my Kotor Videos page.
---
Things to Do in Kotor
San Giovanni Fortress Walls
This one is not going to be for everyone and if you're planning a visit in July or August when it's hottest over here, you'll be forgiven for giving this a miss.
However, if you've got the chance (and energy!), do the old fortress wall walk above the old town.
I mean, look at that view!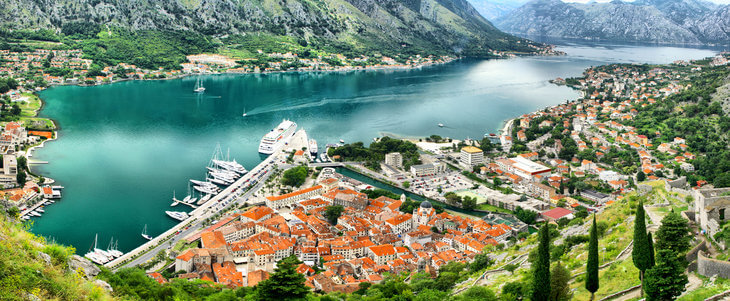 Image: Deposit photos
The old fortress walls lead up from the north side of town to the fortress that overlooks the town. You can walk the steps that people and soldiers have walked for hundreds of years.
You'll need good shoes for this as the steps are slippery and broken in places. It's about 45 minutes to the top and the views over the old town are really magnificent all the way up.

---
tHE lADDER OF kOTOR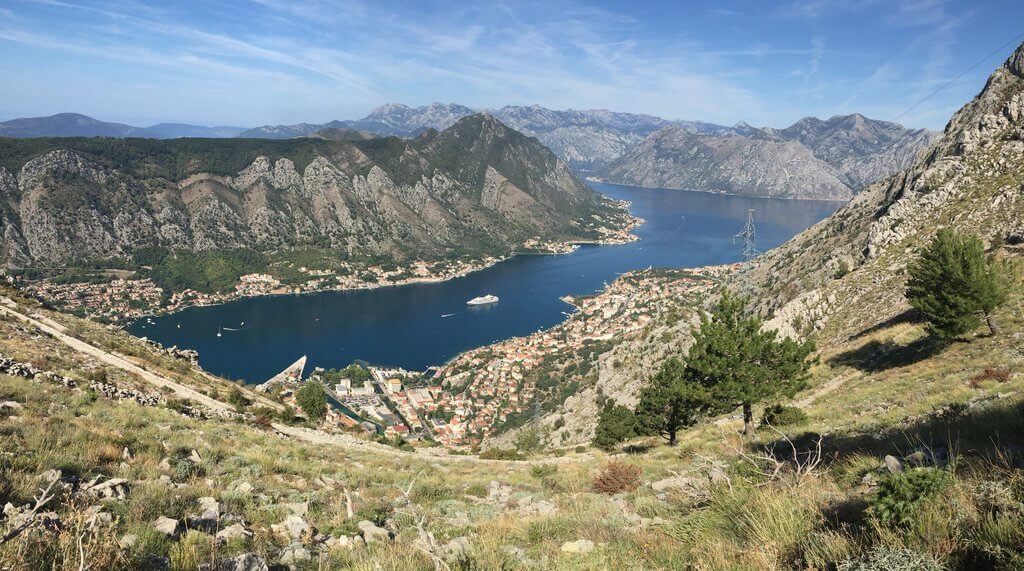 Get off the beaten track and get the best views in Kotor when you hike the Ladder of Kotor. This is the original path that connected Montenegro's old royal capital, Cetinje, with Kotor on the coast. 
The relatively easy hike starts in Kotor and it's a fantastic way to start a day!
---
Kotor Excursions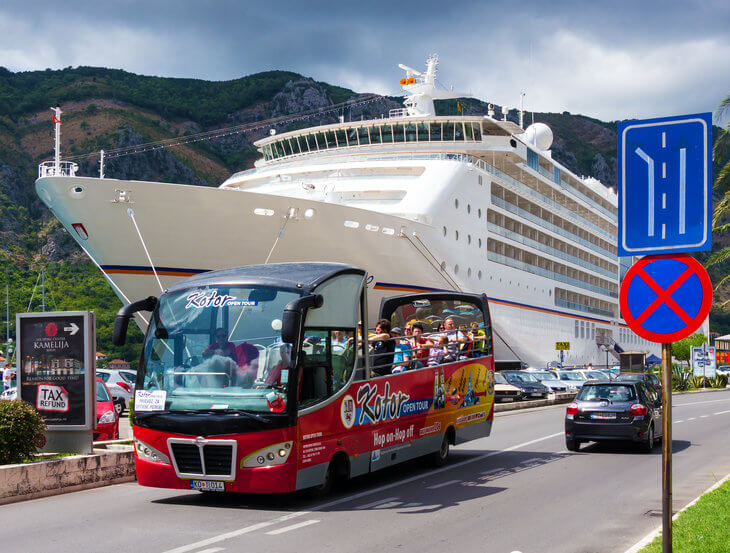 There are lots of tours departing from town every day throughout from April to November
Image: Deposit photos
There are lots of excursions you can take from the town centre. These are perfect for cruise ship guests, but they're also great for people staying in Kotor. 
The most popular tours are the boat tours and sightseeing tours. There's also a great choice of activity tours that include hiking, biking, wakboarding or waterskiing, canyoning and jeep safaris.
There's something for everyone!
Read More: Kotor Excursions
Read More: Find a Tour of Kotor
---
Maritime Museum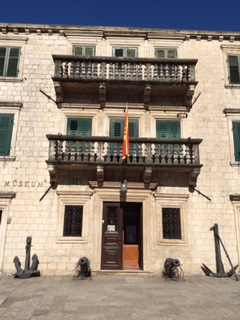 Inside the old town, the former Grgurina Palace is home to the maritime museum which is well worth a visit.
The collection was started by the Boka Marine Fraternity in 1880 and the museum was opened to the public in 1900.
It's three floors are filled with beautiful examples of the area's maritime history including clothing, weapons and furniture.
You'll be able to see reconstructed drawing rooms from local noble families, learn about local legends who circumnavigated the globe and learn about the history of the bay's most important industry - shipping.
Opening hours:
15th April - 1st July: 8am - 6pm Monday - Saturday, 9am - 1pm Sundays and public holidays.
1st July - 31st August: 8am - 11pm Monday - Saturday, 10am - 4pm Sundays and public holidays.
1st September - 15th October: 8am - 6pm Monday - Saturday, 9am - 1pm Sundays and public holidays.
15th October - 14th April: 9am - 5pm Monday - Saturday, 9am - 12pm Sundays and public holidays.
Entrance: €4 per person with audio guide.
---
Farmers Market
Hands down the best place shop for your fresh produce is at the farmers market located in front of the old town. Every morning you'll find a dazzling array of local fresh produce, flowers, fish, and locally produced cured meats and cheeses.
The friendly farmers will be only too happy to let you try before you buy and this is where you can get authentic Montenegrin prosciutto, local cheeses, Montenegrin olives and local produce like fresh figs in high summer.
---
Churches
Kotor wouldn't be an old town without a church around every other corner. The most notable and worth visiting are:

St Tryphon's Cathedral  (1166)– For €2.50 you can visit the cathedral and their small historical exhibit on the first floor.

Sveti  Luka (1195) – Spent the first part of its life as a Catholic church and then was turned into an Orthodox church and served both faiths.

Sveti Nikola (1909) –A large Serbian Orthodox church. It's customary in these churches to buy candles, kiss each one before lighting and leave them in the basins - one for the living and one for the dead.

St Tryphon's Cathedral
For a unique souvenir of Kotor, head to the art gallery next to St Tryphon's Cathedral and choose a piece made by a local artist. 
---
Walking Tours
I highly recommend taking a walking tour of Kotor if you can. In just a couple of hours you can get to know the town like a local!
You can explore the town on your own, but since there aren't any info boards about the historical sites you'll miss out on the most interesting stories about the town... like how St Tryphon's remains ended up in Kotor even though they were originally on their way to Dubrovnik, resulting in St Tryphon's cathedral in Kotor.  
Click here to see our list of the best Kotor tours. 
---
Kotor's Cats
Cats of Kotor Souvenirs

The old town is also well known for its cat population which hangs around shop fronts and the Pijaca od Drva (Wood Square).

If you're looking for a unique souvenir, perhaps for a cat lover you know, the Cats of Kotor shop is a great place to stop for handmade, cat-centred art and crafts. The owner supports the local cats and you can make a donation to help feed them.
Cat Museum
There's also a little cat museum in the old town that you can visit for a €1 entrance fee. Inside you'll see postcards, photos and examples of cats in local print materials from the 20's and 30's. It's an eclectic and unique museum that's supports a good cause. Again, proceeds go to help take care of the town cats.
If you'd like to read more about animal welfare in Montenegro and how you can help click here. You can even help out without it costing you any money!
---
Beaches and Boats
The marina is right in front of the old town so there's no swimming right in the town. The closest beaches are about 500m to the right of town (when looking out to sea) in Dobrota.
To get to Dobrota you'll go past the city park, over the bridge and take the seafront road. You'll find cafes and beaches all along this seafront.
If you really want to see some of the best beaches, you'll have to head out in a boat.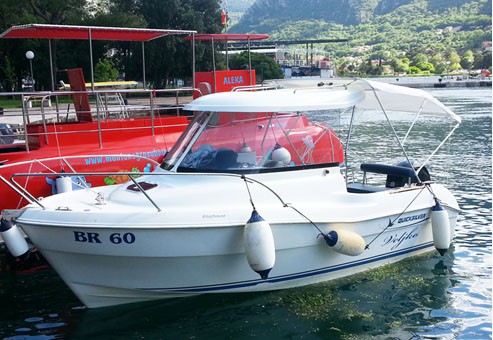 Boat tours depart from City Park, opposite the old town
You really, really should get out in a boat in the bay. It's stunning!
You can hire a boat or join a boat tour from Kotor.  Top sights to see are:
You can find private and group tours that start from €15 per person.
Read More: Montenegro Boat Tours
---
---
Where to Stay in Kotor
There are some lovely hotels in the old town and the Kotor Old Town Hostel was named among the top 10 in the world for adrenaline junkies.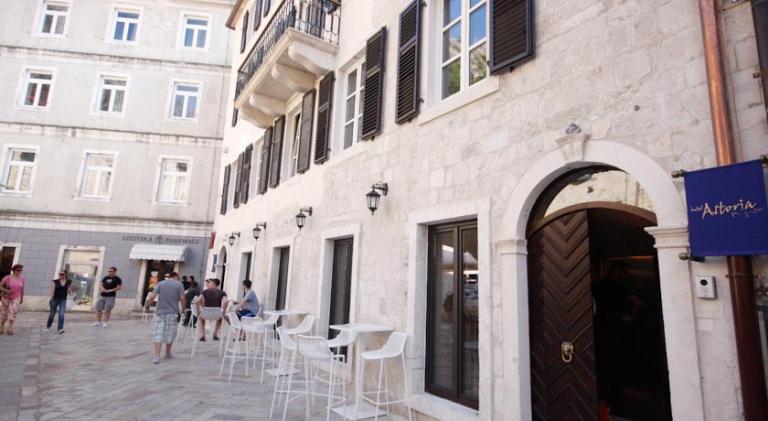 ---
Restaurants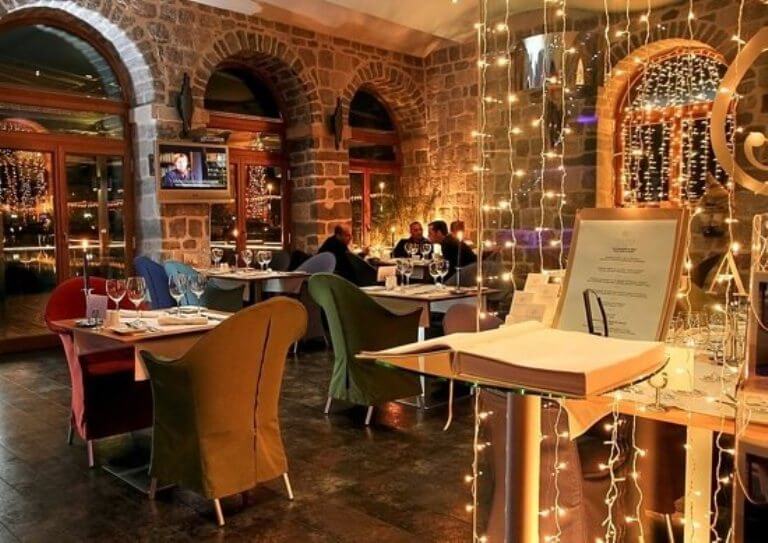 Galion is just a short walk from town and is a great place for a special meal
Kotor has literally dozens of eateries and restaurants within its walls. From pizza slices to bakeries, cafes to restaurants.
There's nothing more 'Montenegrin' than sitting in one of the squares, surrounded by ancient palaces, perhaps with a cat at your feet, sipping on an espresso while you watch the people go past from behind your sunglasses. This is the way the locals do Kotor. 
While visiting, I recommend trying at least one seafood dish like calamari, brancin or orada (first class local fish), buzara (shellfish in red or white wine sauce). 

If you're not a seafood fan, there are plenty of other great options like cevapi and pljeskavica (Balkan sausages and meat patties) and fresh salads. 
Read More: Best Kotor Restaurants
Read More: Montenegrin Food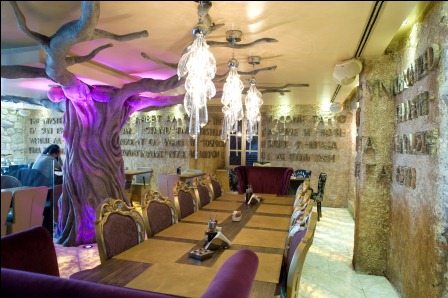 Astoria Restaurant
---
Nightlife
So you've been out for a sumptuous seafood dinner, enjoyed a few local drinks... where to next? To party of course! Kotor has a number of clubs and bars open all year around.
If you head into the old town, you'll find numerous places with djs and live music, especially during the summer.
The biggest club is Maximus, in the north of the town. They usually have an area for local-style contemporary Serbian-language music and another area playing global hits. People tend to head out quite late, so expect things to kick-off after midnight.
Numb Crawl
Want to mingle and make some new friends? You can't beat Old Town Hostel Kotor's legendary Numb Crawl. Led every night by the hostel's self-professed 'not bad-looking' staff,  you'll visit the best bars in Kotor, get free shots, make new friends and have a LOT of fun. Get your ticket at Old Town Hostel Kotor. 
---
Aside from the boutiques in the old town, there's also has a small shopping centre just five minutes' walk north of the old town called Kamelia. Here you'll find a supermarket, chemist, bank and various boutiques and cafes. 
The top floor has an indoor playground that's suitable for kids up to about 8. It's a good place to head if you need a break from the heat or if it's raining. There's a cafe on the floor below where you can get coffee or bite to eat. And on the top floor there's a Kid's Land which sells kids' clothing, toys, strollers... basically everything you need for kids and babies.
---
Parking
There are three parking lots for the old town – one directly in front by the marina, one at the north end and one a little further north on the sea side. Parking is pretty cheap at about €0.80 an hour and you'll always find a park in one of these lots.
---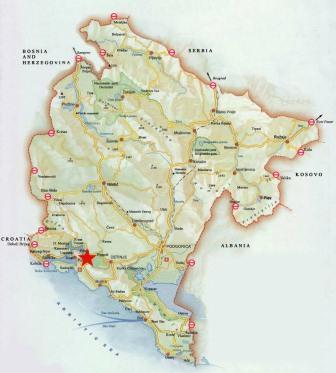 ---
More of Beautiful Montenegro For You To Explore...
---
Home

>
Where Is Montenegro
> Kotor
---
help the stray animals of Montenegro
Book your accommodation anywhere in the world through any of the search boxes on our site and we'll make a donation towards sterilising stray animals in Montenegro. 
It costs you nothing, and you get the biggest selection and lowest prices guaranteed. It's a win-win!