7 Day Discover Montenegro Self-Drive Tour
This post may contain affiliate links. Find more info in my disclaimer.
The 7 day Discover Montenegro Tour is a self-drive itinerary that's great if you want to see all Montenegro has to offer in just a week.
It's ideal if you:
Like an active itinerary
Want to see Montenegro's most beautiful natural areas
Want to spend two weeks or 10 days in Montenegro
Want to explore Montenegro but you're not sure what sights to put on your itinerary - they're all covered here!
This tour is also good if you're travelling with kids. There's not too much driving and there are plenty of kid-friendly activities and places to stay - no matter what age your kids are. 
You can do this itinerary any time of year and because you're booking it yourself, you can modify it however you like.
I've designed the Discover Montenegro Tour to fit into a week's stay, but you can add extra nights wherever you think you'd like to stay a bit longer. I also recommend adding a 3-7 day coastal stay at the start or end of your trip for chilling on the beach.
I love the Discover Montenegro itinerary because it can be as busy or relaxed as you like. You're not travelling great distances each day, so you can fit in lots of activities and sights or you can just take it easy. 
That's the advantage of booking an independent holiday… with a little insider help!
So let's see what the Discover Montenegro Tour itinerary has in store for you…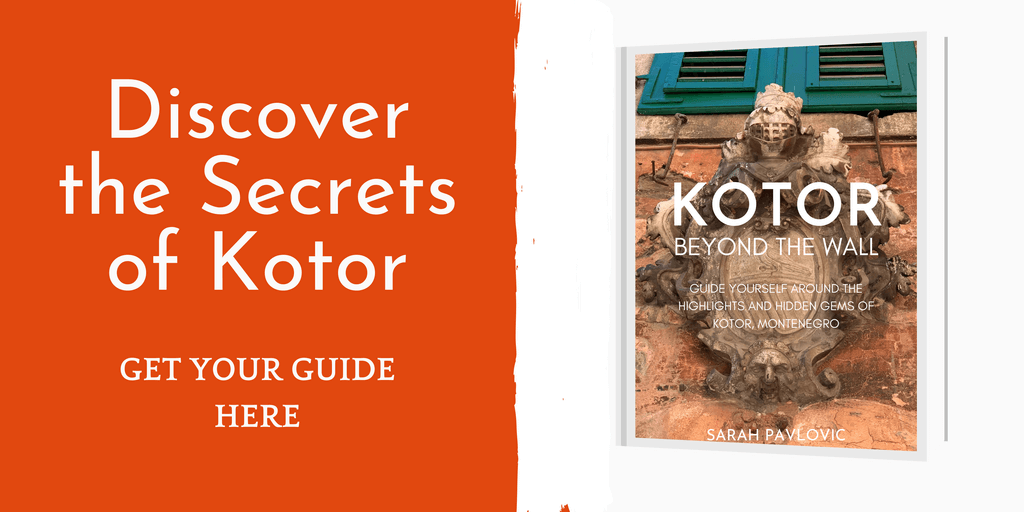 ---
Discover Montenegro Tour Map
Each of the markers on this map is a place you can stop or stay overnight. Click on a marker to see the location and whether it's an optional stop or a place to spend the night. 
---
Day 1: Arrival and Drive to the Bay of Kotor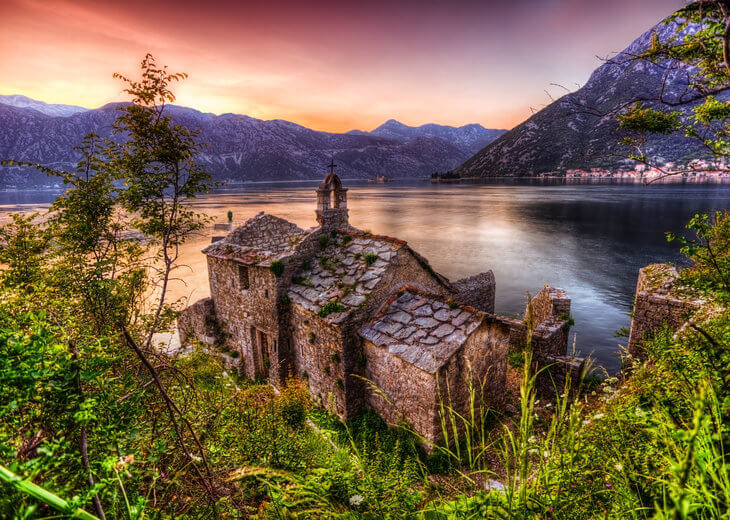 The Bay of Kotor
Image: Deposit photos
Arrive at one of three airports: Tivat, Dubrovnik or Podgorica and collect a rental car.
Tivat is the best airport to fly into because it's close to the Bay of Kotor and you don't have to cross any borders.
Dubrovnik airport is the next best option because it's just 25 minutes from the Montenegrin border and bay (start point).
If you fly into Podgorica, I suggest you start your tour from here rather than driving down to the bay. You can overnight in Podgorica and drive to Zabljak from here on Day Two.
Click here to read more about each of the airports.
If you have time, visit Kotor old town, Perast and Our Lady of the Rocks.
Accommodation
You can choose to stay anywhere in the bay: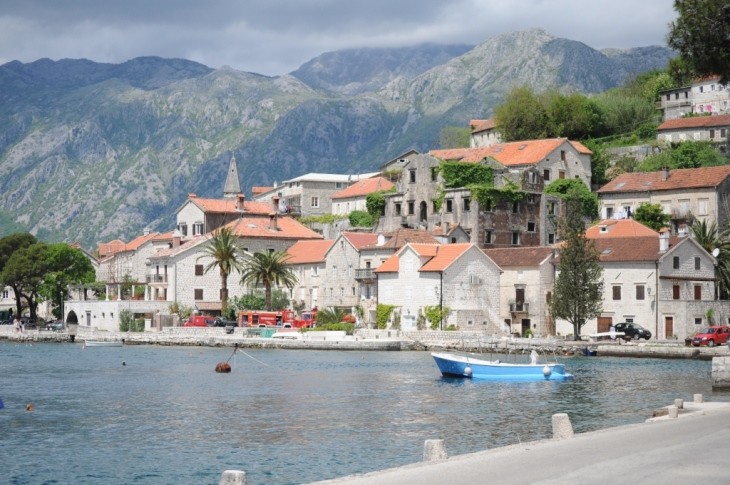 Perast in the Bay of Kotor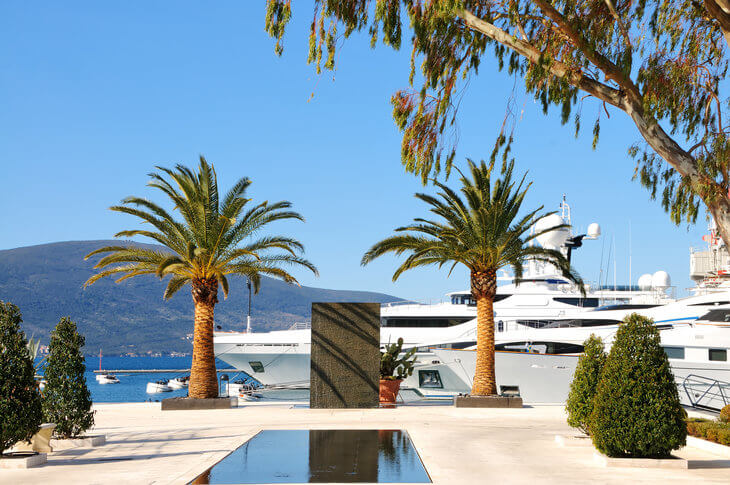 Porto Montenegro, Tivat
Image: Deposit photos
There are also lots of other small hamlets around the bay, just browse the accommodation and choose the one you like best. 

Search For Accommodation
---
Day 2: Bay of Kotor to Zabljak
Distance: 139km, 2 hrs 11 mins drive.
It's a little over two hours' drive from the Bay of Kotor to Zabljak. This leaves you plenty of time to stop along the way and explore when you get there.
Optional Stops Along the Way
Lake Slano – there's plenty of space to pull over when you pass the lake and you'll have a good vantage point from above to take photos.
Ostrog Monastery – a short detour from Niksic brings you to Ostrog Monastery, one of the holiest sites in the Balkans.
Canyoning - love thrills? It doesn't get any better than canyoning through Nevidio Canyon and you can do this tour on your way up.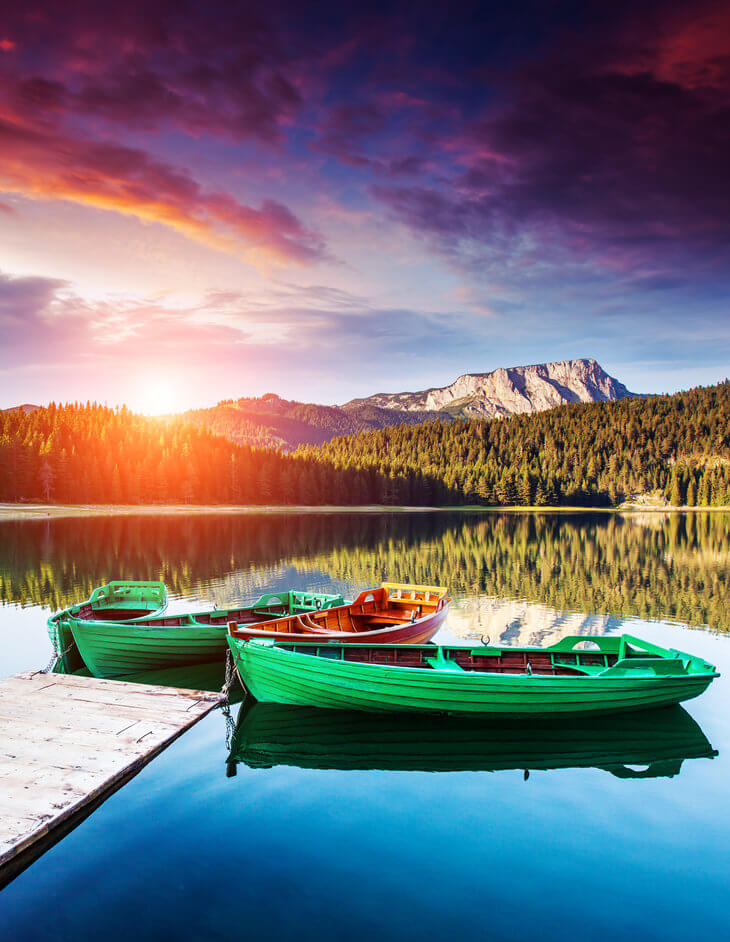 The Black Lake, Zabljak
Image: Deposit photos
Once you get to Zabljak, take a walk around the Black Lake. The 4km trail around the lake is beautiful and you can also hire boats to take you out on the lake.

Recommended Accommodation in Zabljak
Hotel Soa - comfortable, stylish and close to town and the Black Lake.
Polar Star – top pick if you're travelling with kids.
Durmitor Bungalows - budget friendly, unique and close to town.
---
Day 3: Zabljak to Kolasin
Distance: 90km, 1 hr 44 mins drive.
Head out of Zabljak and drive to Kolasin via Mojkovac. 
Optional stops Along the Way
Đurđevića Tara Bridge – this was once the highest vehicular concrete arch bridge in the world. It crosses the Tara Canyon and will give you fantastic views of the canyon. You can stop here for a coffee, to admire the scenery and do the zipline that crosses the canyon.
Biogradska Gora National Park – before you get to Kolasin, take the turn off to Biogradska National Park. Like Zabljak you can walk around the lake, hire a boat on the lake and do forest walks.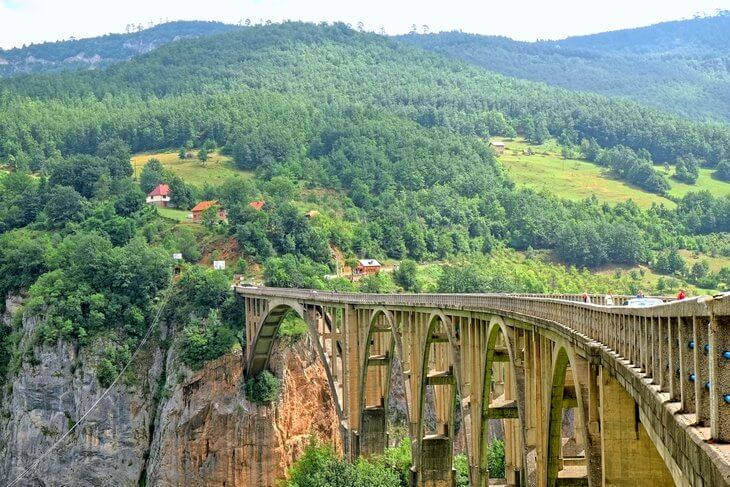 The Tara Djurdjevica Bridge
Image: Deposit photos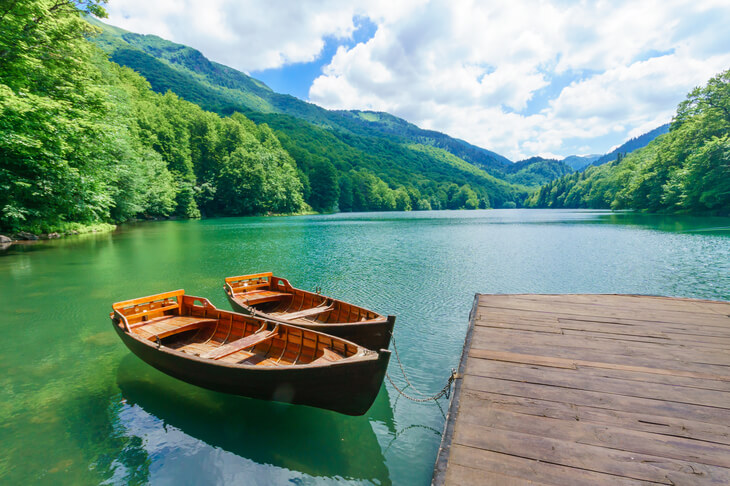 Lake Biograd in Biogradska Gora National Park
Image: Deposit photos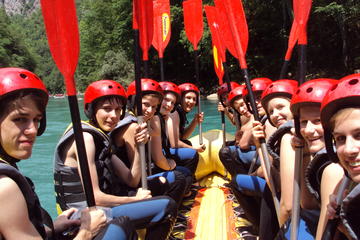 Rafting in the Tara Canyon
Recommended Accommodation in Kolasin
---
Day 4: Kolasin to Skadar Lake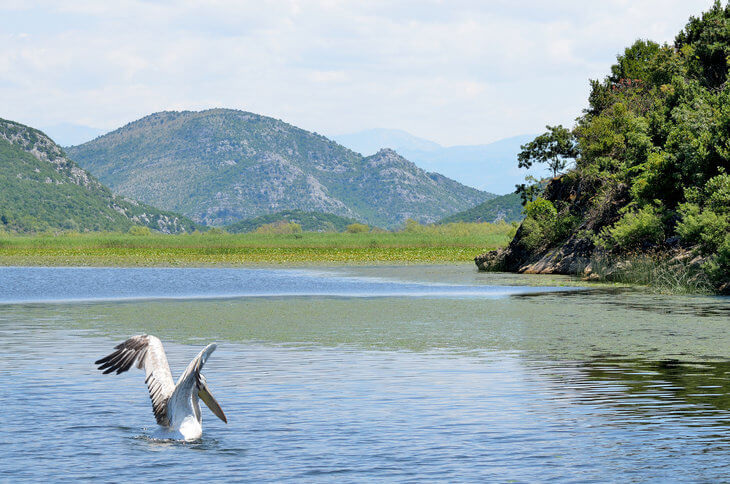 A rare Dalmatian Pelican in Lake Skadar National Park
Image: Deposit photos
Distance: 101km, 1 hr 48 mins drive.
This stretch takes you down through the capital city, Podgorica, and affords you some beautiful scenery as you drive through the mountains and along the Moraca Canyon. 

Optional Stops Along the Way
Moraca Monastery 
Podgorica – see all things to see and do in Podgorica here.
Arrive in Virpazar and take a boat trip on the lake, go kayaking, hiking or do a wine tasting at a local winery.
Alternate Option
If you'd like to see the capital or want somewhere more lively, stay in Podgorica. It's only 20 mins back to Podgorica and you'll find nice hotels, restaurants and nightlife. See hotel recommendations in Podgorica.

---
Day 5: Skadar lake to Ulcinj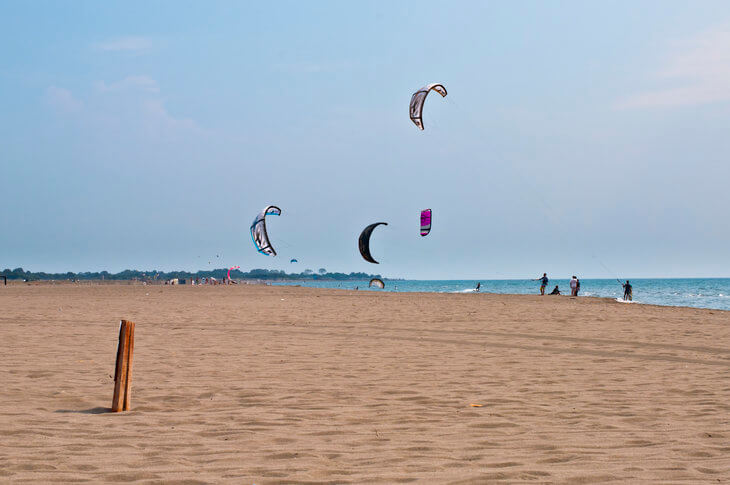 Velika Plaza in Ulcinj
Image: Deposit photos
Distance: 50km, 1 hour drive.
This stretch will take you along the south coast of Montenegro. 
Optional stops Along The Way
Bar – visit the old town and 2,000 year old olive tree.
Valdanos Cove – take a swim in Valdanos Cove, surrounded by acres of olive groves.
In Ulcinj, explore the old town and head over to Velika Plaza for some sea, sun and sand. See all things to do in Ulcinj.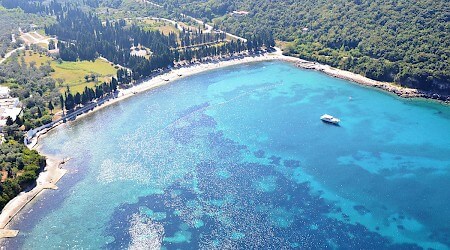 Valdanos Cove
recommended Accommodation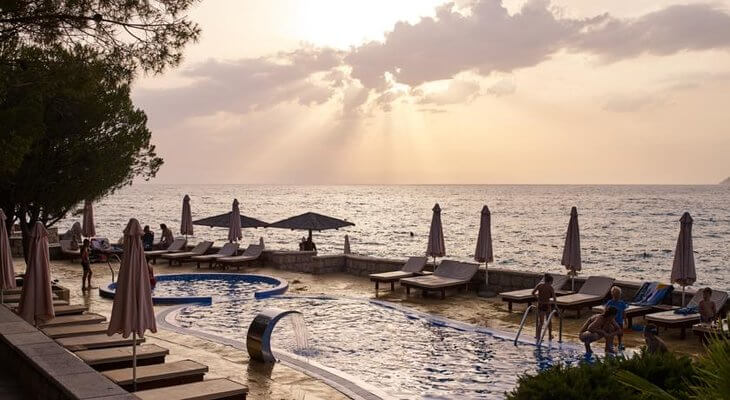 Ruza Vjetrova Resort
---
Day 6: Ulcinj To The Budva Riviera
Distance: 65km, 1 hr 20 mins drive.
This drive will take you along the popular Budva Riviera.
Optional stops Along the Way
Petrovac – a classic Mediterranean seaside village.
Sveti Stefan – a must-see. Drive down to the hamlet, take a swim on the beach, walk through Milocer Forest Park, there's a great playground here for kids and some nice restaurants.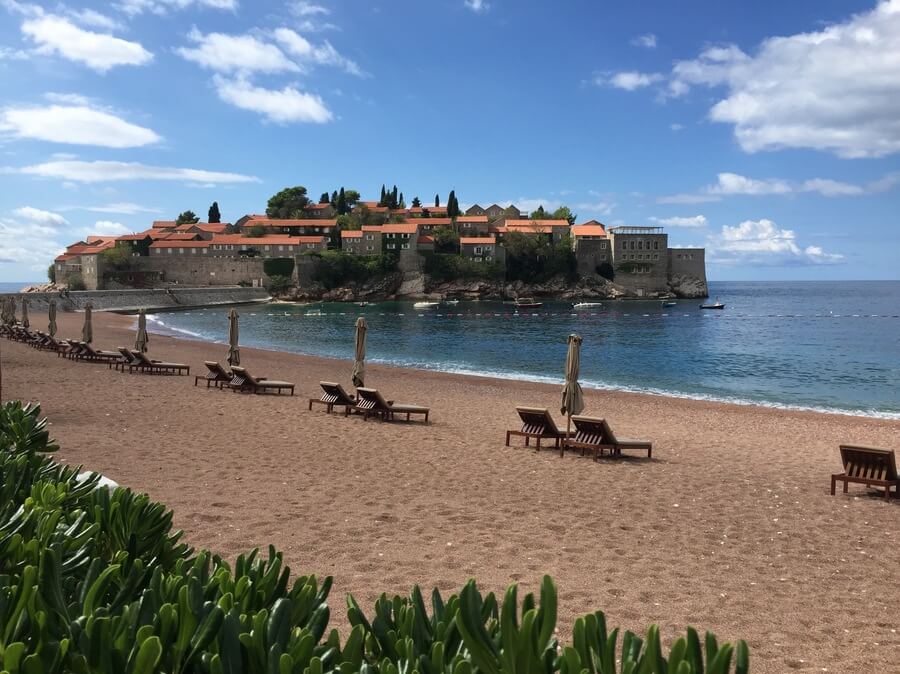 Sveti Stefan
Park in Budva town and walk around the old town. Walk from here to Mogren Beach for a swim. If you like a busy summer resort, stay in Budva itself. If you prefer somewhere quieter, choose a nice place to stay in one of the hamlets along the Riviera.

Recommended Accommodation in Budva
Click here for more accommodation recommendations in Budva.
Recommended Accommodation on the Budva Riviera
---
Day 7: Budva to the Bay of Kotor via Cetinje
Distance: 75km, 2 hrs drive.
This route takes you through the mountains to Montenegro's old royal capital – Cetinje. In the small town you can visit the monastery, national museums and the former palace.
Then the route takes you to Lovcen National Park and down the serpentine road to Kotor. The serpentine road has 25 hairpin turns so it's a slow drive, but the views are breath-taking.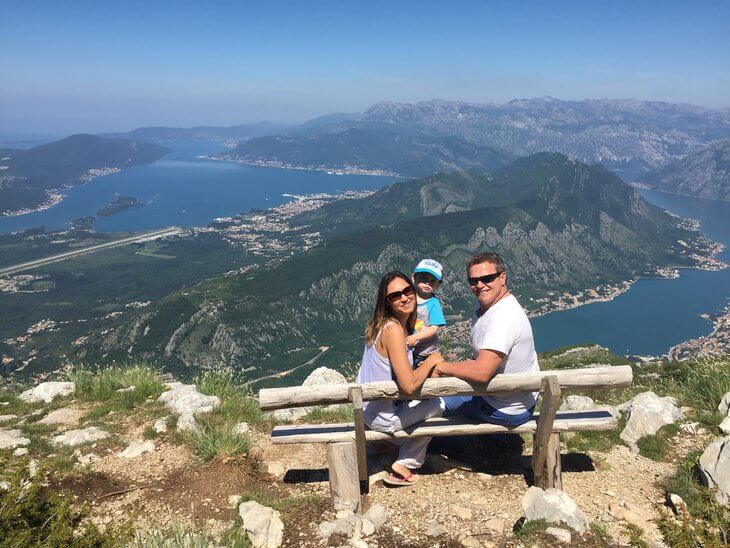 The view over Kotor Bay you'll get as you head down from Lovcen National Park
Optional Stops along the way
Cetinje – the old royal capital. 
Lovcen National Park where you'll find:
Lovcen Mausoleum – last resting place of Petar Petrovic Njegos. 
Ivanova Korita – recreation site with barbecues, restaurant, playground and open fields (another excellent place for kids). 
Lovcen Adventure Park - tree-top ropes courses for all ages.
Njegusi – visit Petar Petrovic Njegos' house, which has been turned into a museum. Try some Njegski prsut (prosciutto), cheese and brandy.

 

Zipline – just after Njegusi there's a zipline (€10 per person

)
Arrive in Kotor and visit the old town, Perast and Our Lady of the Rocks if you didn't on the first day. I recommend booking a boat tour from Kotor to Perast and Our Lady of the Rocks.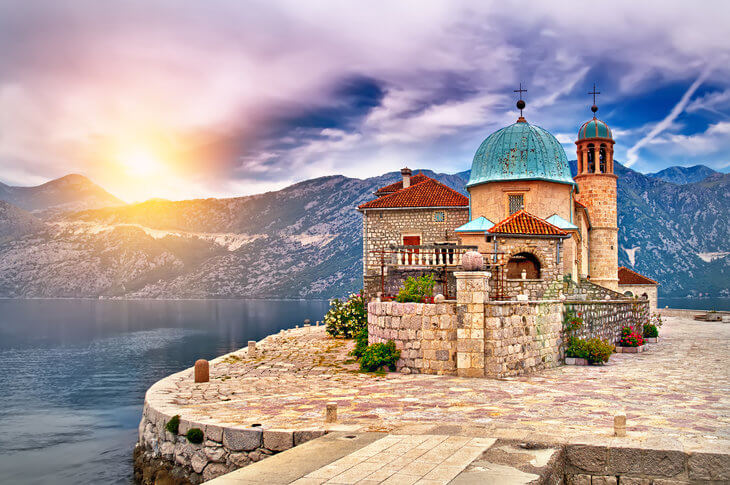 Our Lady of the Rocks
Image: Deposit photos
Recommended Accommodation in Kotor
---
Day 8: End of the Discover Montenegro Tour
This is the end of the Discover Montenegro tour itinerary. Like I said at the beginning, ideally you'll be able to swing another 3-7 days after this to chill out on the beach here. If not, you will still have had plenty of opportunities to enjoy Montenegro's beaches and still see the stunning natural beauty the rest of the country has to offer. 
That's one of the best things about Montenegro - you can experience so much diversity in such a small area!
---
Download The Itinerary
If you want to do this tour I highly recommend downloading and printing (or saving on your phone) the itinerary to keep with you on the road.
The itinerary outlines all of the overnight stops on the itinerary and the optional stop along the way. It doesn't include the activities or accommodation suggestions I've included on this page, so return here when you're ready to book. 
Fill in the form below to get the download.
---
Pin the 7 Day Discover Montenegro Tour
Discover Montenegro Tour
help the stray animals of Montenegro
Book your accommodation anywhere in the world through any of the search boxes on our site and we'll make a donation towards sterilising stray animals in Montenegro. 
It costs you nothing, and you get the biggest selection and lowest prices guaranteed. It's a win-win!