Montenegro Pulse contains affiliate links and is a member of the Amazon Services LLC Associates Program. If you make a purchase using one of these links, I may receive compensation at no extra cost to you. See my disclaimer for more information.

Biking in Montenegro

Doing some biking in Montenegro is an excellent way to see some of the country's most impressive sights. 
Rather than viewing it passively out of the window of a tour bus, you can experience the sights, smells and feel of a place from the vantage point of your bike. Add to that the advantage of being able to stop wherever you like to take pictures of the stunning scenery, and you've got yourself more than enough reasons to do some biking in Montenegro.
There are 4 tours that depart from Kotor, Tivat or Budva:
1 mountain bike tour
2 group tours - they're very similar tours
1 self-guide tour
You can also a total of 7 trails around Lake Skadar which you can make use of. There are no guided tours around here, but you can hire bikes and explore the trails on your own. I've put detailed descriptions of the trails and where to get bike hire here.
And if you're really serious about biking in Montenegro, you'll definitely want to check out the 7 night bike holidays that are available from BikeTours.com.
Kotor, Tivat and Budva
Vrmac Ridge Mountain Bike Tour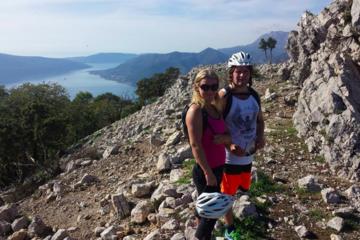 This a 4 hour tour that starts in Kotor and takes you up to the ridge. You then mountain bike the paths across the top of the ridge, getting amazing views along the way, and down into the village of Gornja Lastva and all the way down to Porto Montenegro in Tivat. It includes a transfer back to Kotor. At just 4 hours, it's something you can fit in if you're visiting Kotor on a cruise ship too. From €46 per person. More >
---
Epic 25 Turns Bike Descent to Kotor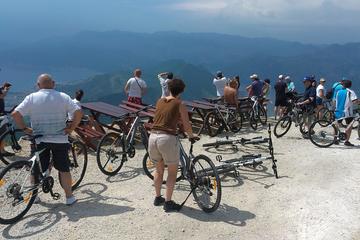 Cyclists overlooking Kotor Bay
This tour takes you down the stunning serpentine road from Njegusi to Kotor.
The tour starts with a transfer to Njegusi and a short tour of the village. Then it's on the bike for a beautiful ride down the serpentines, with plenty of stops for photos!
Tour Details
Start point: Kotor, Tivat or Budva
Start time: morning or afternoon
Duration: 4 hours
Price: From €72 per person
---
Cycling the Ladder of Kotor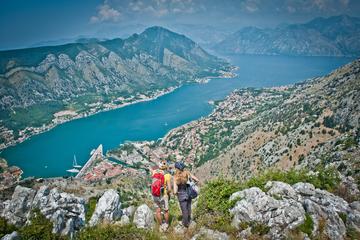 View from the Ladder of Kotor
This tour takes you down Kotor's ancient path that connected the capital, Cetinje, with the coast.
You transfer to Njegusi, the home of Montenegrin proscuitto and smoked cheese. You'll have a short tour of the village and then begin your descent. 
There over 70 switchbacks on this road and the views are stunning all the way!
Tour Details
Start point: Kotor 
Start time: 9am
Duration: 3 hours
Price: From €80 per person
---
Self-Guided Bike Tour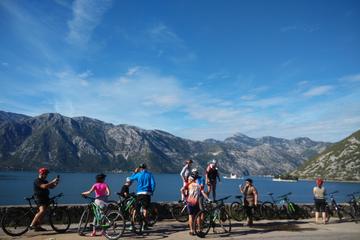 Cyclists in Kotor Bay
Jump on your bike and navigate your way around the Bay of Kotor, stopping wherever you like.
Bike past the seafront palaces and churches to Perast or go all the way around the bay! You can also take your bike across the Kamenari-Lepetane ferry and do a full circle of the bay.
Tour Details
Start point: Kotor
Start time: 9am
Duration: 3 hours (approx)
Price: From €37 per person
---
Lake Skadar

There are several bike trails around the lake that are suitable for all abilities. You can hire bikes and maps and make your way through the stunning scenery around the lake. This is a great way to explore the lake at your own pace. Stop wherever you like and take a closer look at old fortresses and lake villages. Have a picnic on a freshwater beach. Or challenge yourself on the mountain bike trails!

There are five marked bike trails available around the lake:
1.       Rijeka Crnojevica – Virpazar – Cikla: 65km.
2.       Rijeka Crnojevica – Karuc: 9.5km.
3.       Virpazar – Crmnicko Polje – Virpazar: 17.5km.
4.       Virpazar – Limljani – Boljevici – Virpazar: 20km.
5.       Virpazar – Sutorman – Bar: 34km. 
There are also two mountain bike trails:
1.       Dodosi – Zabljak Crnojevica: 10km (available from spring to autumn only).
2.       Virpazar – Orahovstica.
You can hire mountain bikes in Virpazar and get maps for the trails with your rental. The rentals also come with helmets, spare tires, tire pumps and tools. 
The pricing for bike rental is:
€5 for 2 hours or

€10 per day
Read More: Lake Skadar Biking
---
Biking in Montenegro Holidays
If you're interested in more serious biking in Montenegro, BikeTours.com has a range of self-guided and guided biking holidays starting from €690 per person. These are 7 night holidays that will immerse you in Montenegro's beautiful landscape and culture. 
Related Articles
Kotor Excursions
Top Montenegro Attractions
Scenic Drives in Montenegro
Biking in Montenegro
Book Your Trip With My Recommended Providers